The Umbrella Academy: Who Will Be Cast In Gerard Way's Netflix Series?
11 July 2017, 16:49 | Updated: 10 December 2018, 16:04
Let's take a look at the main super-characters lined up for the show and find some suitable acting talent to fill the roles.
With the news that Gerard Way's superhero family comic series The Umbrella Academy is soon to announce a Netflix adaptation, obviously rumours are already flying around as to who might be in line to play the lead roles in the series.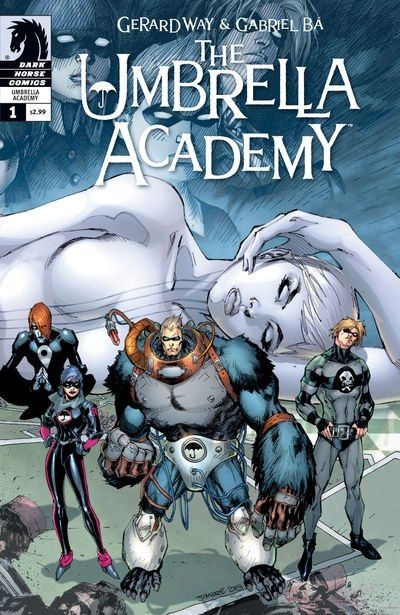 Dark Horse Comics
So, ahead of the expected unveiling at SDCC later this month, we thought we would put together a list of some potential cast members for this highly anticipated superhero project.
WARNING - Minor spoliers ahead!
Here's our list of candidates who could be in line to join The Umbrella Academy:
Space Boy
Dark Horse Comics
Who? He's the leader of the unlikely group of heroes and is most notable for having a human head and the body of an old ape friend who died. Also he's an astronaut.
Potential Casting? A strong charismatic leading man in the vein of a Chris Pratt or a Chris Pine is needed here - basically a Chris-type. Send us all of your Chrises please, care of Netflix.
The Kraken
Dark Horse Comics
Who? A gruff bugger who can breath underwater and is an expert with knives making him the perfect option for a chef at an ocean themed sushi restaurant. Good stubble too.
Potential Casting? Gruff and stubbly? Sounds like a Jon Hamm job to us, but he may be waayyy too busy. So, give Sebastian Stan, Jake Johnson or maybe even Ed Westwick a call.
The Rumor
Dark Horse Comics
Who? She is able to change reality with her lies, basically making her the human form of 'fake news'. She also has an odd sexual tension with her adopted brother, the aforementioned Space Boy.
Potential Casting? Aubrey Plaza, fresh off her scene-stealing performance in Legion, would be seriously ace in this role.
The Séance
Dark Horse Comics
Who? Dude who can actually speak to the dead. The name kind of gives it all away really doesn't it? Twist though - he can also take on their form. Damn.
Potential Casting? In our absolute dream casting, Gerard takes this one on himself. But, perhaps more realistically, we could see a comedy performer like Nick Kroll giving life to the fun-loving character.
The Horror
Dark Horse Comics
Who? Can channell interdimensional beasts through his body that pop out as green tentacles through his body. Gross.
Potential Casting? Hmm, tough one here. We could maybe see a Matt Smith type taking him on?
The Boy
Dark Horse Comics
Who? Appears to look around age 12 due to his time travelling abilities but is in reality the same age as the rest of his super family.
Potential Casting? Noah Schnapp would absolutely crush this. Come on Netflix, you already have his number!
The White Violin
Dark Horse Comics
Who? Sort of a villain, she was an outcast from the family and is corrupted by the Conductor character and able to destroy people and worlds with the playing of her music.
Potential casting? We'd love to see Sophie Cookson, another Netflix-alum having just appeared in Gypsy, take on this musical role.
The Monocle
Dark Horse Comics
Who? The father figure watching over the super children and whose death drives much of the plot. Look at that sweet tache!
Potential Casting? J.K. Simmons would be a nice addition to the cast, bringing some intensity to the role and some real Oscar-worthy star power to boot.
Inspector Lupo
Dark Horse Comics
Who? The police officer who helps the crew. Basically their Commissioner Gordon.
Potential Casting? Well, if it's a Commissioner Gordon type we need then let's grab Gary Oldman.
The Conductor
Dark Horse Comics
Who? The REAL villain of the story who corrupts The White Violin and is basically just an all around b*stard.
Potential Casting? David Tennant is always good fun when he's in bad guy mode.
Dr. Pogo
Dark Horse Comics
Who? A chimp. An actual talking chimp. God, I love this comic.
Potential Casting? Is it too on the nose to say Andy Serkis?
Got your own way better casting ideas? Let us know in the Facebook comments.
____ ____ ____ ____ ____
Listen to the #PopBuzzPodcast with Tom Holland and Zendaya right here or subscribe for free on iTunes to get new episodes sent straight to your phone every Friday.