Fred has a tiny penis and Daphne deals drugs in new Velma show
12 January 2023, 13:06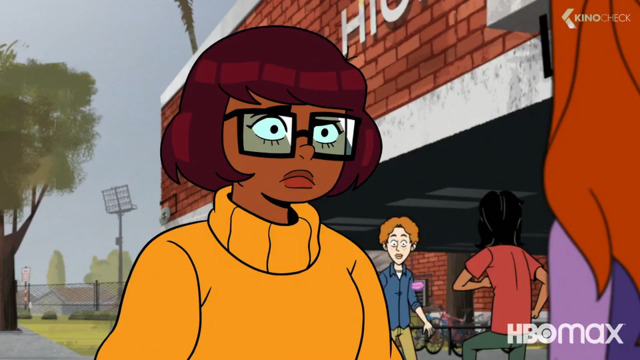 HBO Max's new Velma show is finally here and it's nothing like the original Scooby-Doo series. In fact, Scooby, isn't even in it.
HBO Max's animated Velma TV series is finally here and it's safe to say it's a big departure from past Scooby-Doo projects.
Starring Mindy Kaling as Velma, the highly-anticipated show imagines what Velma, Daphne, Shaggy and Fred were each like before Mysteric Inc. formed. The high school show also trades in the family-friendly nature of previous Scooby shows for a more adult take on the characters we know and love (there are jokes about Fred's tiny penis and Daphne deals drugs).
With the reviews in and the first two episodes out, we've put together just a few of the most shocking details in the show.
READ MORE: Freddie Prinze Jr. says he was 'so angry' after being asked to take pay cut for Scooby Doo 2
First things first, Velma places Velma, Daphne, Shaggy and Fred in a love quadrangle. Velma and Daphne are former friends who have complicated feelings for each other. Meanwhile, Shaggy fancies Velma but Velma "friendzoned" him. As for Fred, he's an arrogant, rich, white boy jock who Velma has a crush on. When the series starts, they are in no way a gang.
On top of that, Scooby-Doo isn't in the series at all. However, this is in part due to licensing issues. Explaining why Scooby isn't in it, creator Charlie Grandy told Variety: "It felt like what made it a kids' show was Scooby-Doo. That coincided with Warner Bros. Animation saying, 'Hey, you can't use the dog'. So we were like, 'Great, this works out well.'"
As for the more adult elements of the show, these include nudity and graphic depictions of murder. More specifically, Fred has a tiny penis that is often the subject of jokes and Daphne is a drug dealer who is essentially a stereotypical mean girl when the series begins.
Some of these elements have sparked backlash. A Scooby-Doo fan tweeted: "No shade against velma, but I can't be the only person a bit weirded out at "adult animated" comedies taking place in high school starring characters that are like 15...right."
no shade against velma but i can't be the only person a bit weirded out at "adult animated" comedies taking place in high school starring characters that are like 15...right

— naya (@repezez) January 11, 2023
>Fred is a ignorant white rich w/ small pp
>Shaggy thinks he's a beta, got friendzoned by Velma
>Daphne is a drug-dealing plastic
>No Scoob
This show is gonna get shat on. pic.twitter.com/NmtR167T10

— Bandwidth Propaganda (@MNetwork0) January 5, 2023
It looks like Velma is shaping up to be a massive disaster :/

Note how it says she's 15, now look at the sweater caption. Also the first pic of the show was of a naked Daphne, so they're sexualizing minors AND the writer is transphobic. It IS Riverdale Scooby Doo 💀 pic.twitter.com/sa7fEMr6QB

— IronAidan07 (@IronAidanD) January 10, 2023
What annoys me the most about Velma's "takes" on Scooby Doo is the dogshit interpretation of Daphne as a rich mean girl who sells drugs (and is also sexualized despite being a child), like it's such a lazy "solution" to a nonexistent problem Be Cool Scooby Doo did way better. pic.twitter.com/f7FYjbiYzX

— who, me? (@le_post_enjoyer) January 11, 2023
Daphne is not a mean girl.
Fred is not an insecure man baby.
Shaggy is not worried about being a beta.
Scooby exists.

One of the best parts of SD is the gang's sense of family and friendship. They love each other. The new Velma show is appalling to change that core relationship

— emblasteon (@emblastoons) January 10, 2023
However, the show has also been praised for its diverse reimagining of the characters. Velma is Indian American, Daphne is Asian American and Shaggy is Black. Not to mention, some critics have also lauded the show's humour and praised it for separating itself from previous Scooby-Doo projects. It currently has a 63% rating on Rotten Tomatoes.
What do you think of Velma?
Read more Scooby-Doo news here:
Glass Onion Cast Take On A Chaotic Mystery Interview | PopBuzz Meets