The Guy Who Plays Billy On "Stranger Things" Is Actually Hot AF In Real Life
27 October 2017, 23:21 | Updated: 7 November 2017, 16:46
Say hello to your new crush Dacre Montgomery.
Billy, one of the new characters on Stranger Things 2, is a character that you're supposed to love to hate.
He's a real dick to his step-sister Max, he's obnoxious, he's rude, his mullet looks dumb as hell but there's something about him that just makes you wanna risk it all. Maybe it's just the sheer, almost clueless, audacity he displays in every other scene or maybe it's because Dacre Montgomery who plays him is SO good in the role... who knows?!
But what we DO know is that he looks totally different out of costume and he's about to become your new crush. (You can find him on Instagram at @DacreMontgomery.)
Here's what he looks like as Billy in Stranger Things. Sad! But not tooooo sad.
Netflix
And here's what he looks like in real life.
It's actually insane how different that damn mullet makes him look.
Honestly, he should ditch the mullet in season three because this too good to be true.
I'm almost offended.
You've probably seen Dacre on screen before too. He recently played the role of the Red Ranger in Power Rangers. Stranger Things 2 is his first big TV gig.
Dacre told

Refinery29

that he managed to get the role by recording himself dancing in a G-string

... to which we raise SEVERAL glasses.
Billy might have been a bit of jerk but we hope Dacre gets to stick around for season three... couldn't possibly say why.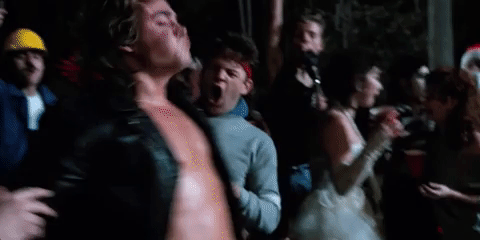 Netflix