The Internet Wants This Actress To Play Jughead's Mum On "Riverdale" And It's Genius
6 June 2017, 11:59
WARNING: Perfect casting alert.
With Season 2 currently in production, and the tease of a handful of new characters on the way, Riverdale is ~still~ taking over our lives. Hiram Lodge is on the way, Betty's got a secret brother we haven't met yet (or have we?) and we still don't know what Jughead's mother and sister look like.
Well, it looks like the internet has some ideas about that last one...
The CW
As you already know, all the actors who play the parents on Riverdale were all once iconic 80's and 90's on-screen idols. Luke Perry (Fred Andrews) was in the original Beverly Hills 90210, Skeet Ulrich (FP Jones) was Billy Loomis in Scream, Mädchen Amick (Alice Cooper) was in Twin Peaks and Molly Ringwald (Mary Andrews) was in The Breakfast Club.
So, in keeping with the 'Famous Parents of Riverdale' theme, the actor who plays Jughead's mum would have to be someone who played an iconic role in a film or TV show that Riverdale takes some sort of inspiration from, right?
The good sleuths of the internet have come up with a GENIUS casting idea for Jughead's mum and we're already obsessed with it. You ready? It's Neve Campbell from the Scream quadrilogy.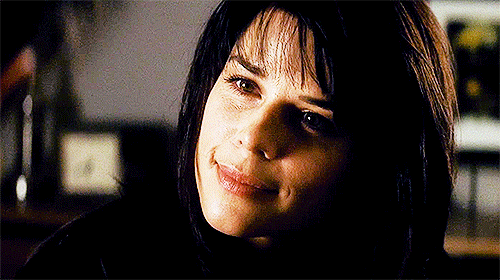 via giphy.com
Why? Well, Sidney was the girlfriend of Skeet Ulrich's character Billy in the original Scream movie. She's got the dark hair required of the Jones family plus there's been a ton of Scream references throughout the first season too; from FP's dialogue ("I'm no killer") and movie buff claim (Billy was a movie buff too) right down to this shot for shot scene where Jughead climbs through Betty's window.
Not to mention the word for word similarities between Jughead and Billy in the show and the movie. Surely all those references are not just a coincidence? It all makes perfect sense. Too much sense, if you ask us.
So there you have it. Sign us up. Neve Campbell for Jughead's mum. Campaign starts now.
via giphy.com
____ ____ ____ ____ ____
Listen to the #PopBuzzPodcast with All Time Low right here or subscribe for free on iTunes to get new episodes sent straight to your phone every Friday.