Wicked movie: Cast, release date, trailer and everything you need to know
22 September 2022, 15:38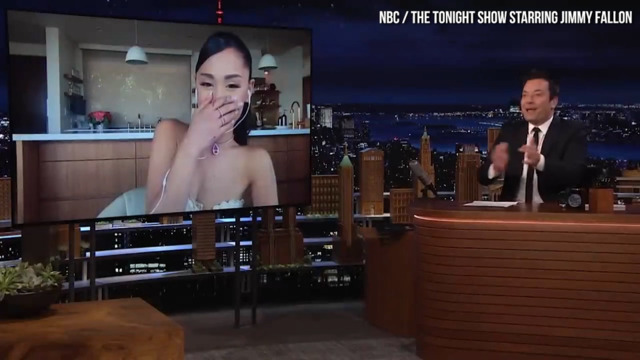 Ariana Grande reacts to video of her singing at 8 years old
Cynthia Erivo, Ariana Grande and Jonathan Bailey will lead the cast of the Wicked movie.
Good news! The Wicked movie is finally (!) and officially (!) on the way! After years of rumours, fancastings and speculation, a big screen adaptation of the hit Broadway musical is happening – and while it's still a way away from being released, it's already shaping up to be an amazing version.
As of September 2022, the main cast includes Cynthia Erivo (Elphaba), Ariana Grande (Glinda) and Jonathan Bailey (Fiyero), and the film will be directed by Crazy Rich Asians and In The Heights director Jon M. Chu.
But what else do we know about the highly anticipated musical adaptation? The release date? The rest of the cast? The reason why it's being released in two parts? Here's everything you need to know about the Wicked movie.
READ MORE: Amanda Seyfried reveals she auditioned to play Glinda in the Wicked movie
When does the Wicked movie come out?
Well, there's actually two release dates for this one because it will be released in two parts. (Yep, what they have planned for the movie version of the musical is apparently way too big to fit into one movie!)
The first half of Wicked will be released in December 2024, with part two following at some point in 2025.
No exact dates have been confirmed just yet so keep your eyes locked to Jon M. Chu's Twitter account and bookmark this page to stay up to date with all the updates.
Why is the Wicked movie being release in two parts?
Wicked's composer and lyricist Stephen Schwartz explained to The Schwartz Scene that it was initially planned as one long movie, but it would have meant cutting important things in order to keep a reasonable running time.
"We kept running into two problems," said Schwartz. "The first is that even as a very long single movie, it required us cutting or omitting things that we wanted to include."
He continued: "We found it very difficult to get past 'Defying Gravity' without a break. That song is written specifically to bring a curtain down, and whatever scene followed it without a break just seemed hugely anti-climactic.
"So, for these two reasons, plus the excitement of doing something that's never been done before with a musical, we have decided to do two movies," he added.
So, there you have it. Wicked will appear on the screen as it does on stage, with 'Defying Gravity' acting as Act One's mesmerising finale number. Fans will then have to wait a while to see how the rest of the story plays out on the big screen.
Who is playing Elphaba in the Wicked movie?
Taking on the role as the iconic Elphaba – originated by Idina Menzel – is Tony winner and Oscar-nominated actress Cynthia Erivo.
Celebrating their casting on Instagram, Cynthia shared an adorable bouquet and a message sent from Ariana Grande, reading: "Dear Cynthia, honored doesn't even begin to cover it. I cannot wait to hug you. See you in Oz."
Cynthia also sent Ariana a pink bouquet of flowers with a card saying: "Congratulations Miss A, the part was made for you. I look forward to sharing this musical journey with you."
Who is playing Glinda in the Wicked movie?
Glinda will be played by Ariana Grande, who somehow managed to low-key manifest the coveted role (originated by Kristin Chenoweth) in a tweet 10 years prior to her casting.
Back in 2011, Ariana tweeted: "Loved seeing Wicked again... amazing production! Made me realize again how badly I want 2 play Glinda at some point in my life! #DreamRole."
While she's not playing Elphaba, Ariana also performed 'The Wizard and I' during the Wicked 15th Anniversary Special.
Who is playing Fiyero in the Wicked movie?
It was confirmed on September 22nd that Bridgerton's Jonathan Bailey will be taking on the role of Fiyero.
Confirming the news on Twitter, director Jon M. Chu wrote: "He's perfect, they're perfect. They'd be perfect together. Born to be forever….. I am too excited to pretend this hasn't been happening. We have a Fiyero!!!! #JonathanBailey #Wicked"
Jonathan Bailey as Fiyero? Screaming! Jonathan Bailey singing 'Dancing Through Life'?? Crying! Jonathan Bailey doing the harmonies on 'As Long As Your Mine' with Cynthia Erivo??? Throwing up!
Who else is in the Wicked movie cast?
So far, only the two lead characters of Elphaba and Glinda have been cast, with Cynthia and Ariana in the respective roles. Bridgerton's Jonathan Bailey, of course, is playing Fiyero.
The roles of Nessarose, Madame Morrible, Doctor Dillamond, Boq and the Wizard of Oz have yet to be cast.
Back when Cynthia and Ariana's casting was announced, fans feared that James Corden might end up being cast as Doctor Dillamond. Prompted by the backlash to his roles in The Prom and Cats, a petition was set up to keep him out the movie.
We'll update this article as soon as more cast members are revealed. In the meantime, who are we manifesting in the roles? Christine Baranski as Madame Morrible? I would LOVE to see it!
Is there a trailer for the Wicked movie yet?
Not yet – production has only just begun and initial rehearsals are underway. And besides, the rest of the characters haven't even been cast yet!
The film is not scheduled to be released until the end of 2024 so it might be some time before we get a first look. Before a teaser trailer is released, Jon M. Chu could even tease the first glimpse of Cynthia Erivo and Ariana Grande as Elphaba and Glinda. Notifications? ON.
Rina Sawayama Reacts To "Industry Plant" Rumour and Paints A Self-Portrait | PopBuzz Meets