Wicked director Jon M. Chu responds to criticism over "dark" first look photos
17 April 2023, 13:32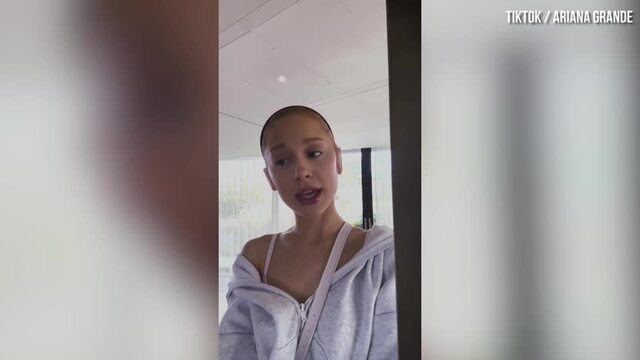 Ariana Grande addresses concerns about her body
Jon M. Chu has reassured fans that his actual movie will not be as dark or 'poorly lit' as people believe the first look photos suggest.
Good news! The first look at Cynthia Erivo and Ariana Grande in the upcoming Wicked movie is here! Not as good news: The photos that have been released are very dark and people have taken to social media to criticise the lighting.
The very first glimpse at the new Wicked duo in costume as Elphaba and Glinda was shared by director Jon M. Chu on Sunday (Apr 16) but alongside the excitement for the live-action version, there was an overwhelming amount of people wondering why the images were so dark.
Over the past few years, movie-goers have criticised Hollywood's dark and dull lighting trend. Recently, The Little Mermaid live-action remake caught some heat because people thought it lacked the vibrancy of the original animated film.
And now Wicked is catching similar comments – so much so that Jon has now addressed fan's concerns.
As soon as the two first look images were posted, fans began sharing memes and commenting on the lighting.
"Turn the damn lights on," one user wrote. Another added: "Finally bringing the 'you got bad seats and can't see shit' aspect of Broadway to cinema." Several others compared the images to scenes from Game of Thrones, which were previously called out for being way too dark to see anything.
Others, however, have defending the images, pointing out that they're simply first look images that may not be indicative of the final product, and that Wicked, while it is a colourful stage production, is not the same vibrant technicolour wonder that is The Wizard of Oz.
One fan added: "The lightning mafia already ganging up in the quotes, have you thought that maybe these scenes are supposed to be dark…?"
Thankfully, Jon M. Chu has now responded to those complaints and has reassured fans that the actual movie will not be as dark or void of colour as fans are fearing.
After sharing the two photos on Twitter, one user replied to Jon, saying: "Looks like Wicked has been "Tim Burton-ised" It's a bright, in your face show. These just look dark."
Jon then responded: "Don't worry, color is in my DNA… this is just the first tease. Plenty of time to show more… stay tuned."
If you've seen Jon's work before, then you'll know that colour is key part of his movies. Two of his most recent films – Crazy Rich Asians and In The Heights – were praised for their bright, vibrant and colourful aesthetics.
On top of that, recent paparazzi photos also hint that the film will be as bright and bold as fans expect.
Don't worry, color is in my DNA… this is just the first tease. Plenty of time to show more… stay tuned

— Jon M. Chu (@jonmchu) April 16, 2023
There's currently no official teaser trailer for the Wicked movie just yet as they're still busying filming, but another look at Cynthia and Ariana in action will no doubt be on the horizon soon.
Wicked: Part One is set to release on November 27th, 2024 with Part Two following in 2025.
Read more about the Wicked movie here:
Sabrina Carpenter Breaks Down Her Favourite Lyrics | PopBuzz Meets