11 Winona Ryder Facial Expressions That Can Be Used For Literally Any Situation
30 January 2017, 13:59 | Updated: 7 November 2017, 16:54
Winona Memes Forever.
Winona Ryder has had somewhat of a renaissance over the past 12 months. The Queen of gothic realness made her triumphant comeback to the screen as the ever-so-slightly jittery Joyce Byers in Netflix's Stranger Things and we've all been stanning her ever since.
On Sunday (Jan 29), the cast of Stranger Things picked up the SAG Award for 'Outstanding Performance by an Ensemble in a Drama Series' and took to the stage to accept it with Winona in tow. David Harbour, who plays Chief Hopper in the series, did the speech but we didn't hear it because all we were concentrating on were Winona's INCREDIBLE facial expressions.
Winona Ryder's reactions deserve their own award. #SAGAwards pic.twitter.com/JYj2xRJ0eM

— Madeline Hill (@mad_hill) January 30, 2017
DID YOU SEE THEM?
I somehow managed to take 28 screenshots of Winona Ryder. pic.twitter.com/37hB5yamSS

— Jen Lewis (@thisjenlewis) January 30, 2017
Winona literally provided us with enough GIF reactions for the next 2 years. In fact, here are some pretty specific situations in which you can use them:
1) When you send a risky text and then realise you sent it to the wrong person. TNT / via giphy.com
2) When the DJ drops an unexpected BANGER.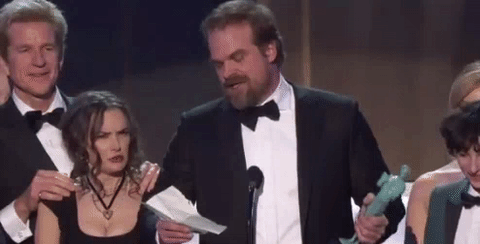 TNT / via giphy.com
3) When you overhear someone talking about your favourite band but then they start dragging them instead.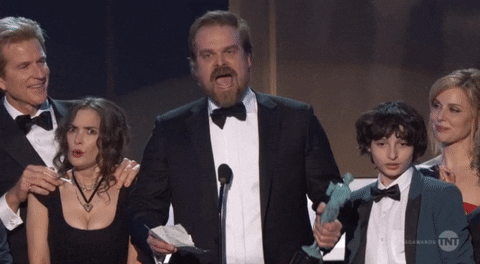 TNT / via giphy.com
4) When they start roasting your least favourite friend in the group chat...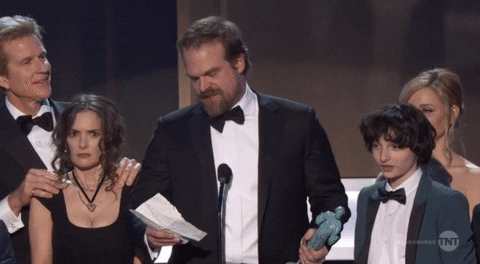 TNT / via giphy.com
5) But then they switch and start roasting you...
TNT / via tumblr.com
6) When you're the last one to get the joke.
TNT / via tumblr.com
7) When your crush likes one of your selfies.
TNT / via giphy.com
8) When you see someone you know in public and you notice them approaching. TNT / via giphy.com
9) Whenever your crush opens their god damn mouth. TNT / via giphy.com
10) When someone problematic says something that you low-key agree with. TNT / via giphy.com
11) Whenever someone mentions that Barb deserved better. TNT / giphy.com
Winona Forever!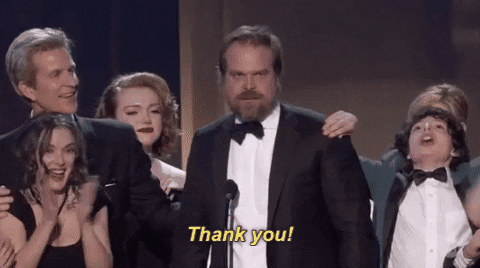 TNT / via giphy.com
___ ___ ___ ___ ___
From Brendon Urie to The Vamps, here are the best bits from the #PopBuzzPodcast in 2016. Listen right here or subscribe for free on iTunes to get new episodes sent straight to your phone every Wednesday.