Here's why XO Kitty siblings Sang Heon Lee and Gia Kim have different accents
23 May 2023, 12:42 | Updated: 23 May 2023, 14:08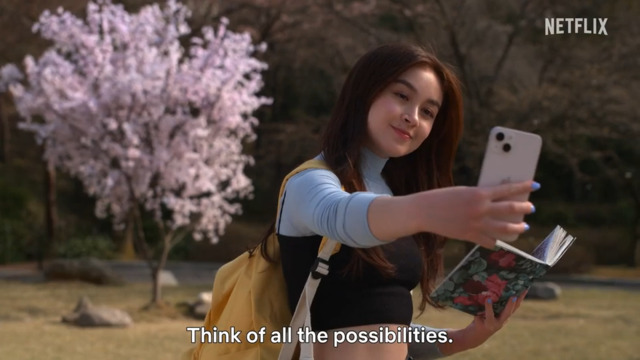 Watch the trailer for XO, Kitty
Is Sang Heon Lee British? Here's why the XO, Kitty star speaks with a British accent...
If you've already watched Netflix's XO, Kitty then you'll no doubt be absolutely obsessed with the talented cast. Anna Cathcart? Slayed. Minyeong Choi? Perfect! Sang Heon Lee and Gia Kim? Obsessed!
In case you didn't know, Sang Heon Lee and Gia Kim (who play Min Ho and Yuri in the series) are siblings in real life. In fact, some of their own cast-mates didn't even know until they joined a cast group chat.
But after watching countless interviews with the cast, fans are now noticing that, despite being siblings, the two have completely different accents. Gia speaks English with an American accent, and Sang Heon speaks English with a mostly British accent.
According to Netflix, the siblings "learned English in different countries which is why they have different accents". They also studied abroad in different countries, too. Here's what the duo have shared about their upbringing.
READ MORE: Who does Kitty end up with in XO, Kitty? The shock ending explained
Sang Heon Lee (who plays Min Ho) and Gia Kim (who plays Yuri) in XO, Kitty are brother and sister in real life! They learned English in different countries which is why they have different accents pic.twitter.com/dn3oabWrJl

— Netflix (@netflix) May 22, 2023
In an interview with Her Campus, Gia revealed that both her and Sang Heon were both born in South Korea, and grew up in Hong Kong. Gia is a couple of years older than Sang Heon, and spent the first few years of her life in South Korea. She calls Hong Kong her "second hometown".
After attending University of Hong Kong, Gia later travelled to Los Angeles where she studied acting at the Art of Acting Studio. (She landed the role of Yuri in XO, Kitty shortly after her graduation.)
While Gia spent a fair amount of time in the U.S., Sang Heon actually studied in the U.K. He spent 11 years of his childhood in Hong Kong, studied at an international school and later went on to study Performing Arts at the University of Northampton in England. He then went back to South Korea to complete the country's mandatory military training before modelling and eventually landing the role of Min Ho. (Via Teen Vogue)
So, if you're wondering why Sang Heon also has the flag of the United Kingdom in his Instagram bio alongside South Korea and Hong Kong, while Gia doesn't... there's your answer! And presumably part of the reason why they both have different accents.
Earlier this month (May 21), Gia shared a little more insight into her sibling relationship with Sang Heon by sharing an adorable birthday message for him on Instagram.
"Hbd to the first human being who entered into my life who I loved unconditionally (except our parents) even before I knew what unconditional love was," she wrote. "You were the first living thing 😂 that I wanted to take care of and keep under my wings always. So happy and lucky to have you lil bro."
She continued: "You're all grown up now… ew… with girls fawning over you…. which I'll always find weird. But also… thank god you're growing up bro. 😜 Excited to see the person you've become and are becoming. Lav you darrrlin' Keep up your happy energy xxx."
An iconic duo!
Read more XO, Kitty news here:
Jonas Brothers vs. 'The Tower Of Truth' | PopBuzz Meets