Sang Heon Lee reveals why his first day filming XO, Kitty was "very scary"
24 May 2023, 12:59 | Updated: 24 May 2023, 14:38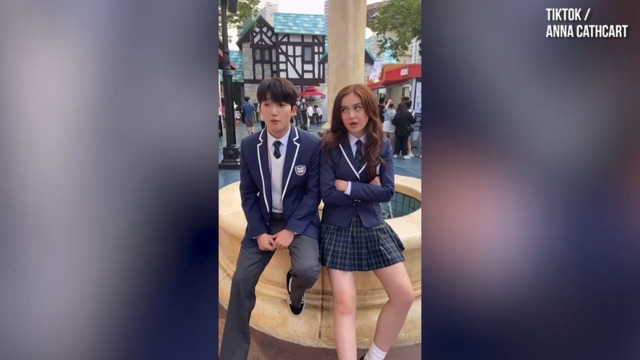 XO, Kitty cast do Telephone challenge
"I forgot my lines and I was just so nervous at the time because everything was new to me."
XO, Kitty star Sang Heon Lee has opened up about playing Min Ho and explained why his first day on set was "very scary".
It's impossible to imagine XO, Kitty without Sang Heon Lee. As soon as the To All the Boys spin-off debuted last week (May 18), fans all around fell in love with Sang Heon and his portrayal of Min Ho in the show. At first, Min Ho and Kitty don't see eye to eye but it soon becomes clear that Min Ho isn't as toxic as he first appears and Kitty soon starts to warm to him.
Now, Sang Heon has revealed that he was "so nervous" on the first day of filming XO, Kitty and actually forgot his lines.
READ MORE: XO, Kitty stars Sang Heon Lee and Gia Kim are brother and sister in real life
Speaking to Teen Vogue, Sang Heon said: "I remember [my first day] so clearly because I forgot my lines and I was just so nervous at the time because everything was new to me. Hitting a mark, where to stand before the camera, I was not used to the whole set environment. So it was a very scary time for me. But although it was nerve-wracking, I had fun."
Fans of Sang Heon will already know that XO, Kitty is his first on screen role. The 27-year-old studied performing arts at the University of Northampton. However, he then had to do two years of mandatory military training in Korea. Afterwards, Sang Heon started working as a model before landing the part of Min Ho.
On how he reacted to being cast, Sang Heon told Tudum: "The feeling that went through my body was unreal. I surprised my mum when I got home and called my whole family to share the good news. Also I was finally able to eat properly. I couldn't eat properly during the time of auditions because I was so nervous."
Sang Heon has since landed a role in Gran Turismo. The new movie stars a blockbuster cast that includes the likes of Archie Madekwe, David Harbour and Orlando Bloom. He also now has over one million followers on Instagram.
Taking this and his performance in XO, Kitty into consideration, Sang Heon has nothing to be nervous about when it comes to future projects.
Read more XO, Kitty news here:
Jonas Brothers vs. 'The Tower Of Truth' | PopBuzz Meets