Zac Efron eats poo in trailer for eco-friendly Netflix show Down To Earth
29 June 2020, 17:32 | Updated: 6 October 2020, 13:04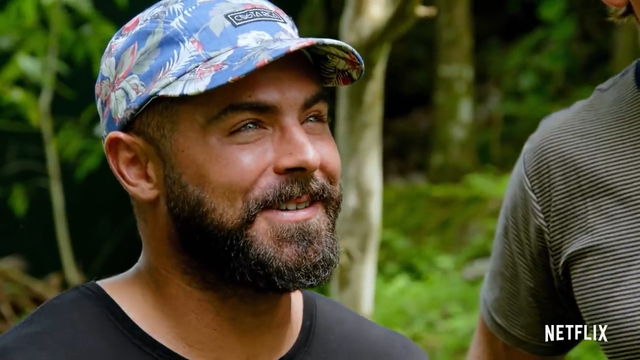 Watch the trailer Zac Efron's new Netflix show Down to Earth
Zac Efron's new Netflix documentary series 'Down To Earth' will see the High School Musical star head to eco-friendly communities around the world to see how they're working to combat climate change.
We love a Netflix documentary. And what's more, we love a Netflix documentary when it involves Zac Efron travelling around the world, visiting the eco-friendly communities combatting climate change. Say hello to Down To Earth.
Coming to the streaming platform on July 10, the show will "investigate the ways people are taking action toward a sustainable future" and pay visits to France, Puerto Rico, Iceland, London, Costa Rica, Lima, Sardinia and Iquitos.
32-year-old Zac has already been involved with Discovery channel's Great Global Clean Up as well as participating in Earth Day, so an on-screen feature longer than his High School Musical reunion involvement is a sure welcome from both fans and eco warriors.
READ MORE: Here's everything coming to Netflix in July 2020
"We're traveling around the world to find some new perspectives on some very old problems," Efron says in the trailer. "Food, water and energy are all the main staples for modern life. We're going to meet some top eco-innovators to see how change is an inside job."
READ MORE: Netflix confirm a Chicken Run sequel is on its way
He can be seen trying eco-friendly food staples, looking at how community farting bags could be the next big thing in renewable energy, and visiting corners of the earth that most of us will never get chance to. But what's really shock-factor worthy (and definitely warrants binging the whole series), is a moment when he gets presented with a bowl of animal poo for dinner, before adding "it doesn't taste like dung." He's easily pleased.
See the trailer for yourself...
Down to Earth with Zac Efron | Official Trailer | Netflix
While we never expected Zac to become our next travel documentary hero, he'll be joined by qualified wellness expert Darin Olien, and fans are expressing their happiness at seeing a more stripped-back side to the star where he's not playing a character.
The original Troy Bolton is also gearing up to star in Quibi's new show 'Killing Zac Efron', a show he's also executive producer on, as he ventures "deep into the jungles of a remote, dangerous island to carve his own name in expedition history."
He's really putting in the work to bag the lead in the next live-action Jungle Book, huh?
Down To Earth will be streaming exclusively on Netflix.