Zac Efron FINALLY Reunited With The "High School Musical" Cast And We're Crying
6 October 2016, 11:19 | Updated: 8 May 2017, 17:09
#TheBoysAreBack
Everyone remembers where they were on that dark day in January when it was announced that Zac Efron would not be joining the cast of High School Musical for their 10 year anniversary. We're not going to lie to you - our hearts were broken. How could Troy Bolton do that to us? After all that time? After everything we've been through?
Today, the wounds finally healed because Zac ~finally~ took some time off from his recent shirtless cinematic escapades to reunite with his ol' pals and he even took the liberty of documenting it on Twitter.
@MrGrabeel and I saw @corbinbleu DANCE on AIR ala Fred Astaire last night. Lit the stage on ! Check out #HolidayInnMusical. #theboysareback pic.twitter.com/mB8puTAwOa

— Zac Efron (@ZacEfron) October 5, 2016
Look at that hashtag! We're not crying. You are!
Disney Channel / via giphy.com
The boys reunited in New York City after seeing Corbin Bleu perform on stage in his new musical, Holiday Inn on Broadway. Nice to see that Chad finally sacked off the basketball in favour of the stage. COME THRU CHAD!
They were also joined by East High's very own Ryan Evans - aka Lucas Grabeel - making it a three horse race for the lead role in PopBuzz's imaginary 2016 Winter Musical.
Now, if only we could get the girls to hop on a flight to NYC so we can lock all six of them in a room and force them to reenact our favourite songs. *sighs*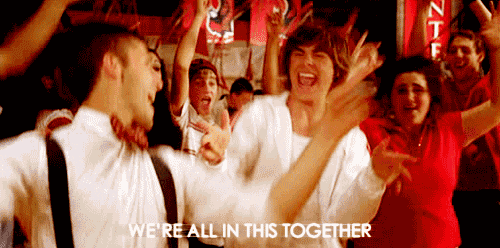 Disney Channel / via youtube.com