Zelda live-action movie: Tom Holland and Hunter Schafer emerge as faves to play Zelda and Link
8 November 2023, 17:01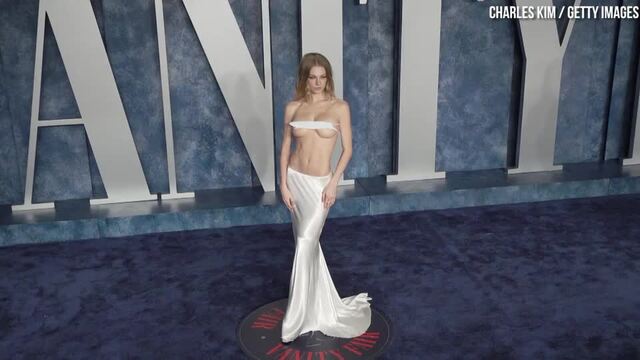 Hunter Schafer dares to bare in revealing dress at Oscars After-Party
Hunter Schafer as live-action Zelda? Perfect. Literally perfect.
It's official: After years and years of speculation, The Legend of Zelda is officially being adapted into a live-action movie.
The film, which will be based on the hit Nintendo game franchise, is currently in development. It'll be directed by Wes Ball, who directed the Maze Runner series. In a statement shared on Twitter, producer Shigeru Miyamoto said: "I have been working on the live-action film of The Legend of Zelda for many years now with Avi Arad-san, who has produced many mega hit films.
"It will take time until its completion, but I hope you look forward to seeing it."
Needless to say, fans are hyped and can't wait to see how it turns out. On top of the excitement, people are already starting to share their fan castings for the all important roles of Zelda and Link.
The front-runners amongst the list of suggestions? Hunter Schafer and Tom Holland.
Who will play Zelda in live-action The Legend of Zelda?
Well, no casting announcements have been made yet because the film still appears to be in the early stages of development. That hasn't stopped fans from throwing some names in the ring, though.
Hunter Schafer, who plays Jules in Euphoria and Tigris in The Hunger Games: A Ballad of Songbirds and Snakes, is far and away the most popular fan choice for the role.
Hunter has even responded to the hopes that she'll one day play the character on-screen. Speaking to Entertainment Tonight back in December 2022, Hunter said: "Wow! I mean, yeah, that would be cool! Like an elf? And I mean, I played that video game a bunch when I was a kid, that's such a good game."
Zendaya, Anya Taylor-Joy and Emma Mackey have all been suggested by fans too.
Who will play Link in live-action The Legend of Zelda?
Again, no casting announcements have been made yet but the role of Link will be an interesting one. Throughout the games, Link does not speak. Link is a silent protagonist, and it's unclear if this detail will remain in the movie adaptation or if they will give Link dialogue.
Fans have therefore been suggesting actors who they think could perfectly portray the character as Link is in the games.
Tom Holland's name immediately started to trend as soon as the film was announced (by people wanting him to play Link and people who are terrified at the idea of it – it's a mixed bag!), but others have also suggested the likes of Thomas Brodie-Sangster, Justice Smith, Jacob Tremblay and One Piece's Morgan Davies.
Some people have also called for an unknown actor/newcomer to take on the role of Link.
Who would you want to see take on the roles of Zelda and Link in the live-action movie?
Madison Beer Explains Every Song On 'Silence Between Songs' | Making The Album