Zendaya memes go viral after Challengers trailer breaks the internet
21 June 2023, 13:01 | Updated: 21 June 2023, 14:12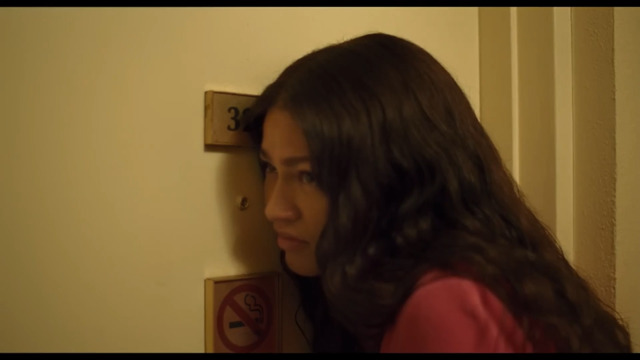 Watch Zendaya in the Challengers trailer
"Finally a Zendaya character that regularly takes showers."
If you haven't watched the trailer for Zendaya's new movie Challengers yet, stop what you're doing, hit play on the video above and get ready to stan immediately.
Challengers follows Tashi (Zendaya), a Tennis prodigy who ends up with an injury that forces her to retire. She becomes a coach and transforms her husband Art (Mike Faist) into a world-famous grand slam champion. After a slump in performance, Tashi signs Art up to a challenger event where he ends up on the court face-to-face with former best friend and Tashi's former boyfriend, Patrick (Josh O'Connor).
The romantic comedy-drama is directed by Luca Guadagnino (Call Me By Your Name) and written by Justin Kuritzkes.
And the trailer? Oh, boy! The trailer has sparked a whole host of memes thanks to Zendaya's character, who ends up in a threesome with the two boys. (That, and the fact that the whole film in general looks absolutely brilliant already.)
READ MORE: Tom Holland's reaction to Zendaya's Coachella performance is everything
Set to a remix of Rihanna's banger 'S&M', the trailer teases the very early days of Tashi, Art and Patrick's careers and relationships. Tashi is a rising star in the sport, while the other two are at the start of their careers.
There's a devastating injury, huge rivalries, and, of course, the aforementioned threesome. It's quite the ride.
Alongside the inevitable memes from fans joking about Tom Holland's 'reaction' to Zendaya's cinematic tryst, the internet completely lost their shit over the whole thing. Here's some of the funniest memes and reactions to the trailer.
Luca Guadagnino has done it again.
A threesome!?
No thoughts, just Josh O'Connor's sauna thighs.
Millions of people frantically typing "what is Tennis" into the Google search bar as we speak.
The Tashi bob is SO serious.
zendaya's character in challengers getting a bob to show she's older and more serious...that's called The Shiv Roy

— adrian (@grandeures) June 20, 2023
And just like that, a meme was born...
Cinema is BACK, baby!
Zendaya in a psychosexual Rom-com, Jennifer Lawrence in a raunchy comedy, Margot robbie as barbie, halle Bailey as Ariel….. 2023 cinema has truly been Yassified. pic.twitter.com/sH24lPZXIP

— Dani (@writteninstar5) June 20, 2023
Challengers is set to premiere at the 80th Venice Film Festival in September 2023, and will be released in cinemas on September 15th.
And best believe... we WILL be sat.
Read more Zendaya news here:
Niall Horan Breaks Down Every Song On 'The Show' | Making The Album