Zendaya opens up about how Euphoria affected her anxiety
10 October 2019, 12:16 | Updated: 10 January 2022, 17:32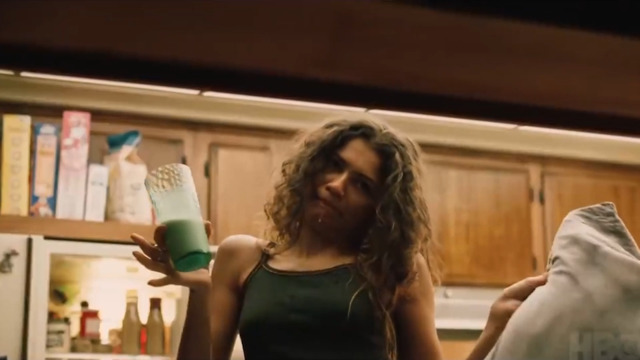 Watch the Euphoria season 2 trailer
"I already know after this interview is over, I'm going to spiral about it for weeks."
Zendaya has spoken openly about having anxiety in an interview with Elle. The Euphoria actress was one of 10 famous faces to grace November 2019's Women in Hollywood issue. Natalie Portman, Nicole Kidman, Scarlett Johansson, Jodie Turner-Smith, Melina Matsoukas, Lena Waithe, Mindy Kaling, Gwyneth Paltrow and Dolly Parton are also cover stars.
READ MORE: Euphoria season 3: Release date, cast, spoilers and news about the HBO series
Zendaya has already cemented herself as a style icon (see: Zendaya's Emmy's dress) and unsurprisingly her cover was a moment. The Spider-Man star rocked a beaded chainmail-style Armani dress with a sheer nude camisole underneath.
And in the interview, Zendaya spoke about the anxiety she felt when Euphoria came out. The 25-year-old plays Rue in the HBO teen drama, a high school student who is dealing with her father's death and drug dependancy following a stint in rehab.
"Even though Euphoria coming out was amazing and exciting, it was also extremely stressful," she explained. "It gave me a lot of anxiety every week. That's something I deal with; I have anxiety. I already know after this interview is over, I'm going to spiral about it for weeks."
Zendaya, who has been in the industry since she was a child, went on to reveal how she had to grow up quickly in Hollywood and overcome her shyness and self-doubt. She added: "I never want to mess up. I'm trying to be the best version of myself without overapplying pressure. Then I start spiralling."
READ MORE: Zendaya warns fans that Euphoria season 2 is for "mature audiences" only
The Spider-Man: No Way Home star also said she's not "dissimilar" from Rue, who is struggling from her own mental health issues. She developed the character with Euphoria's creator Sam Levinson and didn't want it to feel fake, just "another version" of her life. So, it comes as no surprise that her performance has been highly praised for its rawness, despite her feelings of uncertainty.
She continued: "I know, I'm super hard on myself. People actually saying I did a good job at my craft...it's like, 'Damn, I did work hard. I'm glad you see that.' I should finally own that; it's liberating. I feel lucky."
Read more about Euphoria here: