Zendaya becomes youngest star to win Best Actress in a drama at the Emmys
21 September 2020, 11:09 | Updated: 19 November 2020, 16:12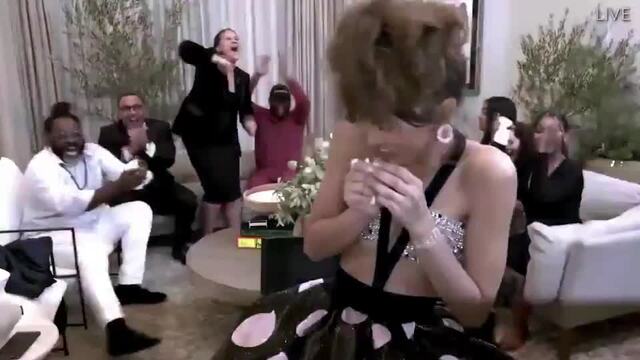 Zendaya makes history with Emmy win
Zendaya is also the second black actress and first former Disney Channel actress to ever win the award.
It's official. Zendaya has just made Emmy Awards history thanks to her critically acclaimed performance as Rue in Euphoria.
Ever since Euphoria season 1 came out in 2019, fans and critics alike have praised Zendaya's acting in Sam Levinson's teen drama. Zendaya plays Rue, a recovering addict, who returns to school following a stint in rehab. The hit series also features standout performances by Jacob Elordi, Sydney Sweeney and Hunter Schafer but Zendaya steals the show.
READ MORE: Euphoria open casting call reveals season 2 will have four new characters
Last night (Sep 20), Zendaya became the youngest star to win Outstanding Lead Actress in a Drama Series at the Emmys.
Zendaya beat out competition from Jennifer Aniston (The Morning Show), Olivia Colman (The Crown), Jodie Comer (Killing Eve), Laura Linney (Ozark) and Sandra Oh (Killing Eve) to earn the prestigious award. At just 24-years-old, Zendaya is not only the youngest actress to take home the award but also the first former Disney Channel star to earn the coveted title.
Zendaya is also the second black actress to win the award, after Viola Davis won the same Emmy for her performance as Annalise Keating in How to Get Away with Murder in 2015.
Tearing up in her speech, Zendaya said: "Thank you to the TV academy, to all the other incredible women in this category, I admire you all so much. This is pretty crazy, I don't really cry. Thank you to my family, to the incredible cast and crew of Euphoria, I'm so lucky to go with you to work every day and I'm inspired by everything you do."
Zendaya ended her speech saying: "I know this feels like a really weird time to be celebrating, but there is hope in the young people. I just want to say to all my peers out there doing the work I see you, I admire you, I thank you."
Congratulations Zendaya!