Zendaya's Spiderman Role Has Been Revealed And Everyone Is FREAKING Out
19 August 2016, 13:19 | Updated: 8 May 2017, 17:09
This is pretty historic.
The Spiderman franchise is a weird thing at this point, right? It's been through so many different...iterations, I think it's time we all just accept that we're stuck on this crazy ride with truly no end in sight (HOW MANY TIMES DOES UNCLE BEN HAVE TO DIE?).
On this ride are crushing disappointments and cool moments. One such cool moment is the confirmation that Queen Zendaya will be starring as Mary Jane Watson in the next Spiderman film.
Now, as you probably know, MJ is an iconic character once portrayed by Kirsten Dunst in the early 2000s.
The Spiderman + MJ love affair brought you this iconic scene.
Of course some people had a few things to say about Zendaya not being a Kirsten Dunst-esque Mary Jane but, for the most part, people are psyched.
Finding out @Zendaya is playing MJ in Spider-Man is just about the best news I could have gotten EVER! She's gonna kill it SO EXCITED!!

— Noodlerella (@noodlerella) August 19, 2016
ur all complaining about zendaya not being a redhaid when pic.twitter.com/K3QsvtMzU6

— anna!! (@sherlockohlmes) August 19, 2016
If you're upset that Zendaya is portraying MJ & you've been okay with all the whitewashing in MCU , you ARE the problem!

— Best of Marvel (@thebestofmarvel) August 19, 2016
So, when we heard Zendaya was actually playing Mary Jane we were like...
gif via Buzzfeed
But then we were like, do we ship it....?
via tumblr
And then we saw people saying Zendaya is a bad choice because she's not a red head.

So we were excited we heard people being totally respectful and cool about Zendaya.
I don't really know who Zendaya is but I'm sure she's better than all of us.

— Nick Mundy (@dickfundy) August 19, 2016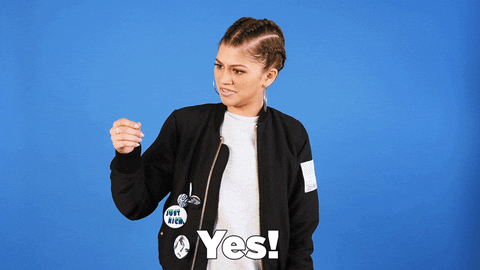 But we're mainly wondering if the makeup department on the movie is going to make sure Mary Jane's eyebrows are as LIT as Zendaya's. With great eyebrows comes great responsibly.