Zoey 101 sequel movie confirmed without several main cast members
13 January 2023, 14:14 | Updated: 13 January 2023, 20:44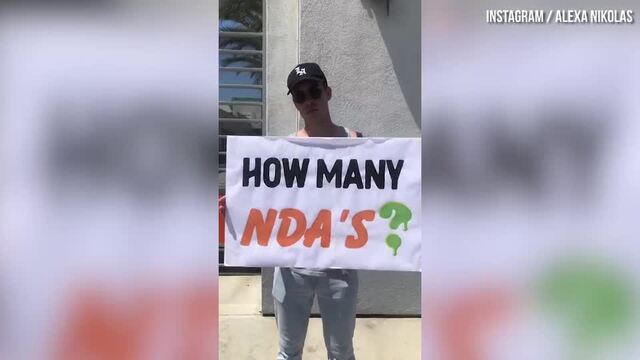 Zoey 101 star Alexa Nikolas says she didn't feel protected by Nickelodeon as she protests headquarters
Paul Butcher, Victoria Justice and Alexa Nikolas will not be part of the sequel movie, Zoey 102.
Two years after being teased by Jamie Lynn Spears, it's now been confirmed that a "mature" Zoey 101 sequel movie is finally happening.
Confirmed yesterday (Jan 12), Zoey 102 (as it is currently named) will be released later this year on Paramount+.
Production is now underway in North Carolina. In a statement, Jamie Lynn said: "I'm beyond thrilled to be back alongside my PCA family and continue the story of Zoey and all the characters fans know and love. As an executive producer, it's been an exciting opportunity to work with such incredible talent as well as Paramount+ and Nickelodeon."
But while Zoey 102 is officially happening, there's a handful of former main cast members that will not be reprising their roles.
Zoey 101 sequel cast: Who will be returning?
Jamie Lynn will reprise her role as the titular character in the film. Zoey 102 will follow the original cast members and PCA alumni as they reunite for a wedding in the present day.
Other original cast members who will be returning for the sequel movie include Erin Sanders (Quinn), Sean Flynn (Chase), Matthew Underwood (Logan), Christopher Massey (Michael), Abby Wilde (Stacey) and Jack Salvatore (Mark).
Who is not returning for the Zoey 101 sequel movie?
Paul Butcher, who played Zoey's younger brother Dustin in the original series, will not be part of the sequel. He has shared multiple TikTok videos about no longer wanting to return, and previously said that the reboot was "deffo not" happening anymore. Paul has also shared several TikTok videos in support of Britney Spears and the #FreeBritney movement, while also shading Jamie Lynn.
Alexa Nikolas, who played Nicole, is also not returning. She has been incredibly vocal about her negative experience working with Dan Schneider and Nickelodeon. She recently staged a public protest outside the Nickelodeon offices, holding a sign saying, "Nickelodeon didn't protect me."
Victoria Justice will also not be back as Lola.
And not that anyone expected him to return given that he's literally on the cusp of winning an Oscar for his performance in Elvis, but just in case you were wondering... Austin Butler won't be back either. He was part of the main cast in season 4 and played Zoey's love interest James.
Back in 2020, Jamie Lynn shared the reason why the show could not be revived on Nickelodeon. The sequel movie, much like the iCarly reboot, will now be released on Paramount+.
Speaking to The Hollywood Reporter, she said: "We couldn't do it justice by putting it back on Nickelodeon, because our fanbase has grown into young adults like me, 29 or around the same age. We want to tell stories about where the characters are now. We want to connect with the fans and touch on topics that are impacting millennials, so it would have to be aged up and be more mature."
Glass Onion Cast Take On A Chaotic Mystery Interview | PopBuzz Meets