Where is Poguelandia in real life? The Outer Banks filming location revealed
23 February 2023, 19:47 | Updated: 23 February 2023, 22:50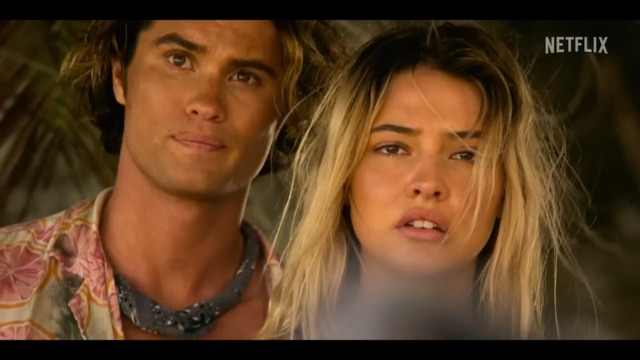 Watch the Outer Banks 3 trailer
Season 3's Poguelandia was filmed on a real beach in Barbados – and it's even more beautiful in real life.
Outer Banks season 3 is officially here and the Pogues have been thriving in their makeshift home of Poguelandia. But where was it filmed?
If you didn't already know, the Bahamas scenes in season 2 were actually filmed in Barbados. The crew used parts of the island's capital Bridgetown, as well as some of the fancy hotels and mansions on the west coast of the island in Holetown.
Outer Banks also took advantage of Barbados' stunning beaches in the second and third season too. When the Pogues finally make their way ashore after jumping from the ship, they end up on a beach that they soon dub 'Poguelandia'. At the start of season 3, we learn that they've been stranded there for about a month, catching their own fish and making the most of the sitch.
And for those fans who want to see the beautiful Poguelandia location in real life, you can! Parts of Poguelandia were filmed on the east coast of Barbados, including the village of Bathsheba.
Where is Poguelandia in real life? Where was Poguelandia filmed?
The location itself is situated in the parish of Saint Joseph, and is on the other side of the island to Holetown. Bathsheba beach sits on the Atlantic coast, which means it's great for surfing competitions.
It's also home to one of the most recognisable and picturesque features of Barbados: The giant rocks and boulders sitting at the edge of the ocean.
In season 2, Bathsheba's iconic giant rock is featured in the background as the group pull their dinghy to shore.
The Pogues stay there briefly then appear to move to find somewhere with more shelter, as we see in season 3's opening scenes where they've set up their makeshift shelter within some coves.
While the other filming locations have not been confirmed, it looks like some other parts of Poguelandia may have been filmed further up the east coast, such as the pond where the plane lands and the coves within the cliffs. (On Instagram, the cast also shared photos of their visit to Barbados' incredible Animal Flower Cave, which is at the top of the island.)
If you're ever in Barbados and want to see the incredible location for yourself, there's plenty of beach tours and excursion packages that you can book while you're there, and plenty of local spots to support when you visit.
No jumping off the cliffs like JJ, though. Save that for the professionals!
Paul Rudd Tries To Name Every Marvel Movie In 1 Minute | Quantumania | PopBuzz Meets