Who dies in Outer Banks season 3? Does JJ die?
23 February 2023, 17:32 | Updated: 23 February 2023, 19:46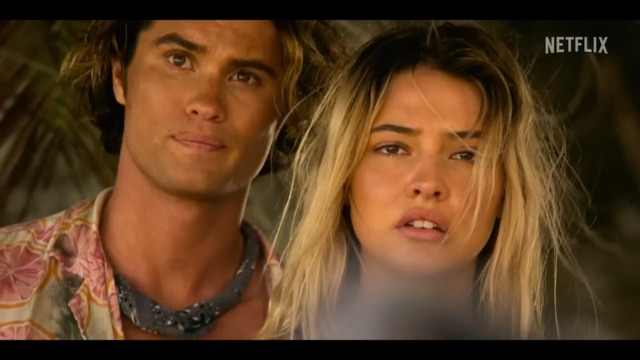 Watch the Outer Banks 3 trailer
Does JJ die in Outer Banks season 3? Does John B make it out alive? Does Sarah have another near death experience? Here's all the main deaths in Outer Banks season 3. [Spoilers!]
Outer Banks has done it again. A new season, 10 brand new episodes and countless hours spent fearing for the lives of our favourite fictional characters.
Outer Banks season 3 sees the Pogues on an all new treasure hunt as they set off in search of the treasure of El Dorado. There's an all new deadly villain called Carlos Singh who has a lot of armed mercenaries on his side, Ward and Rafe Cameron pop up again and continue to be absolute menaces and, as always, plenty of dangerous situations that could wipe the Pogues out at any time.
Season 2 saw some big deaths and near death experiences (Sarah? Yeah, that was a close one...), and Outer Banks season 3 is no different. Here's your recap on who dies, how they die and who comes dangerously close.
WARNING: Major spoilers for Outer Banks season 3 ahead. Don't read ahead if you want to be spoiled!
Who dies in Outer Banks season 3?
Throughout the 10 episodes, there's plenty of deaths as the hunt for the treasure of El Dorado grows more and more dangerous thanks to Carlos Singh and his henchmen.
In the first episode, Portis is killed by Carlos Singh himself after he fails in his mission to bring all the Pogues to his mansion. Later in the season, Tommy is killed, and so is Ryan. There's also countless smugglers and mercenaries that work for Carlos that are also killed along the way.
But on top of that, there's also some pretty huge, game-changing deaths that will have a profound impact on our Pogues.
WARNING: Major spoilers ahead for the deaths of several main characters in Outer Banks 3! You've been warned!
Does Carlos Singh die in Outer Banks season 3?
In the season finale, Carlos ends up on the tail of Big John, John B and Sarah after Ward cuts a deal to give him information in exchange for Sarah's safety. Later, after John B and Sarah return after finding El Dorado, Carlos holds them at gunpoint. Big John then lights a stick of dynamite and throws it into the entrance of the pathway in order to destroy it for everyone.
In a bid to save the pathway to the treasure, Carlos runs towards the dynamite to stop it from exploding. But as soon as he reaches it, it explodes in his hands and he is blown to smithereens, as Big John and John B manage to escape the cave just in time.
Does Ward Cameron die in Outer Banks season 3?
Shortly after Carlos' death, Ward then holds the trio hostage before the Pogues charge at him with machetes. When he doesn't back down, Sarah challenges him, manages to disarm him and takes his gun.
Carlos' mercenary Ryan then appears, cocks his gun and is seconds away from killing Sarah. Like, literally seconds. Ward then charges towards Ryan as Ryan fires three shots right into Ward's chest. The two then fall off the steep cliff to their deaths. Ward saves Sarah's life, but dies in the process.
In a moment of narration, John B then says: "Sometimes the biggest villains are unexpected heroes."
Does Big John die in Outer Banks season 3?
While all this chaos with Carlos and Ward is going on, Big John is suffering from a big ol' gunshot wound that was inflicted by Carlos in the scuffle earlier in the episode. Big John has been bleeding out for good part of the episode, and it starts to get even worse when Ward is killed.
The Pogues manage to get Big John into a boat and on the way to safety, but he sadly dies on the way. After an emotional goodbye, John B has to say goodbye to his dad again.
The Pogues then hold a small funeral for Big John (and set up a memorial spot for Ward, too) in the jungle of Venezuela.
Does JJ die in Outer Banks season 3?
After several close calls (as usual), JJ manages to escape death yet again in this season, and makes it out alive.
In episode 5, JJ has his closest brush with death during the intense chase involving the Cross of Santo Domingo, a train and a high-speed police chase. In order to distract the police from the Pogues who are trying to steal the Cross, JJ hops on a bike and draws them away. But he loses control and crashes over the edge of the overpass.
The bike is completely destroyed and there is literally zero way he could have survived the crash without a helmet and proper protective wear. But, in true JJ fashion, he walks out of it unscathed. Turns out, he had managed to jump off before the bike crashed.
JJ lives to Pogue another day.
Does Sarah die in Outer Banks season 3?
After her near death experience in season 2, we all wanted a quiet and peaceful season for Sarah Cameron this time around. But when is that ever going to happen in Outer Banks? As the daughter of Ward Cameron, a target is immediately placed on Sarah's back thanks to her involvement in the hunt for El Dorado.
In the season finale, Carlos Singh places a kill order on Sarah alongside John B and Big John. After Carlos' death, his mercenary Ryan comes very, very close to killing her, but she's saved by her dad Ward to literally takes three bullets for her.
At the end of the season, Sarah is very much alive and is celebrating back home in the OBX with the rest of the Pogues.
Paul Rudd Tries To Name Every Marvel Movie In 1 Minute | Quantumania | PopBuzz Meets