Bella Thorne Thinks She Should Be On "Riverdale" And People Are Shook
13 November 2017, 16:58 | Updated: 13 November 2017, 17:02
"It's a no from me."
Dylan Sprouse. Jake Paul. Lucy Hale. Caleb from Pretty Little Liars. What do they all have in common? They're all actors who have been rumoured to be joining the cast of your favourite show, Riverdale. Honestly, not a day goes by where there isn't a new casting rumour about this show and now, actors on Twitter have started getting involved in the conversations themselves.
So who's been fishing for a gig on the show this time? Bella Thorne, of course.
One fan tweeted Bella saying they think she should appear on Riverdale as Cheryl Blossom's long lost twin sister because they "look similar" and have the same hair colour.
@bellathorne could pass for @madelainepetsch twin sister on @CW_Riverdale . They kinda look alike. Red heads!

— Horror_ADDICT. (@claudieeyes) November 11, 2017
Bella then replied to the tweet saying it was an "awesome idea," because of course she did!
That's an awesome idea!! https://t.co/dVrSje37uy

— bella thorne (@bellathorne) November 11, 2017
Despite the fact that Cheryl already has a twin (Jason, in case you weren't paying attention to the show at all...), we can't help but gag at the idea that Cheryl has another secret sibling - or triplet. Or maybe Jason wasn't even her real twin in the first place. Actually, thinking about it, this all sounds like a terrible idea... maybe we should all just leave Cheryl alone in peace at this point.
As for the casting of Bella Thorne in that role in particular? It sounds like the majority of people aren't on board with it... which wasn't a surprise.
no it's a horrible idea

— sister erin (@heythereimerin) November 11, 2017
"It's a no from Simon and myself" pic.twitter.com/dCbxoIZrrk

— sof, (@_XSofX_) November 11, 2017
That's a reach pic.twitter.com/BetdWKthox

— lanae gray (@LanaeNae26) November 11, 2017
I don't think they could really make that happen, Jason was her twin. As much as I admire both actresses and the show, that would just be a bit ridiculous. I've even thought the same thing, but I feel like it would be a useless storyline.

— Jessea Marie (@JesseaMarieXoXo) November 11, 2017
But some people are TOTALLY down with though and they're even pitching storylines for her potential character.
@bellathorne being part of the South Side Serpents would be EVERYTHING pic.twitter.com/CrHznfg3od

— Wendy Beltran (@Awesome_Tubular) November 13, 2017
ill say it, @bellathorne should be on riverdale

— Vonn Knapp (@vonntweets) November 10, 2017
Imagine Bella at Riverdale, totally goals

— Alejandra Martínez (@alejand75666221) November 12, 2017
plot twist on riverdale: cheryl blossom and a sociopath fraternal sister and it's bella thorne

— elisa (@zxynholland) November 1, 2017
Bella Thorne as a secret Southside Serpent Blossom... discuss.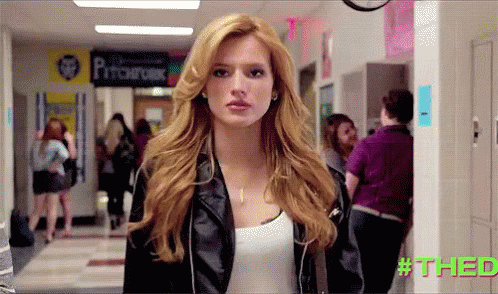 via giphy.com
___ ___ ___ ___ ___
Haven't you heard? We've got a brand new TV SHOW on Twitter… Watch it LIVE on Thursday with Liam Payne at 5pm GMT right here! #PopBuzzPresents