Lili Reinhart Just SNAPPED At A Fan For Taking Sneaky Pictures Of Her And She's 100% Right
14 November 2017, 12:44
"So I asked for it, right? Wrong. I am a human being."
There's been a certain trend lately of entitled fans dragging actors and musicians for not stopping or taking photos with them when they're out in public. These "fans" are notorious for treating celebrities like they owe them something and generally forget that they're actual human beings too.
Riverdale's Lili Reinhart had to lay down a few facts last night (Nov 13) on that exact issue after she caught two fans attempting to take pictures of her while she was eating her lunch.
In the original tweet, which has now been deleted, Lili called out the fans who seemed hellbent on documenting her every move. The tweet said: "To the two girls who are repeatedly photographing me as I'm eating my lunch…. I see you… you aren't slick…. that's fucking rude. ?????"
And rightfully so, to be honest.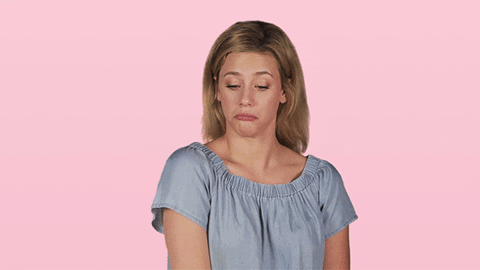 Lili Reinhart / via giphy.com

One fan later replied to her initial complaint with a now deleted comment saying "Whats with celebs these days? If u don't want that much attention then quit acting for good. Be nice to the fans pls."
And therin lies the problem, my friends. Never mind "be nice to the fans", it's time these fans started respecting the actors instead. Just because someone's profession involves being on TV doesn't mean all manners and basic human decency go out the window if you see them in person. How would you like it someone sat there and took pictures of you eating your lunch? Annoying AF, isn't it?
Lili then SNAPPED and replied to the tweet with the most iconic clap-back she's given to date addressing the wider issue at hand.
No, no, no. This is what's wrong--- you think you're entitled to take a photo of me while I'm alone and eating because I'm on a tv show. So I asked for it, right? Wrong. I am a human being. I am not Betty Cooper. You aren't entitled to me. At all. https://t.co/0sF1cjw6yF

— Lili Reinhart (@lilireinhart) November 13, 2017
It's not the first time Lili has had to address overzealous fans approaching her in public and it's becoming a huge issue for the cast of Riverdale.
You do not have the right to approach STRANGERS and throw your arms around us like you know us. What you did was not cool and inappropriate

— Lili Reinhart (@lilireinhart) September 4, 2017
This trend of treating celebrities like they owe you something just because you see them on TV once a week and then calling them out when they don't stop or take a picture with you in their downtime has to end.
Whether they're 14 years old or 21 years old or even forty-fucking-two years old, no actor or celebrity or musician is obliged to stop or take pictures with you. You are not entitled to their time, especially if they're out in public - alone - and not a work. THE END.
___ ___ ___ ___ ___
Haven't you heard? We've got a brand new TV SHOW on Twitter… Watch it LIVE on Thursday with Liam Payne at 5pm GMT right here! #PopBuzzPresents