65 thoughts everyone had while watching Riverdale's Hedwig musical episode
17 April 2020, 00:33 | Updated: 17 April 2020, 01:10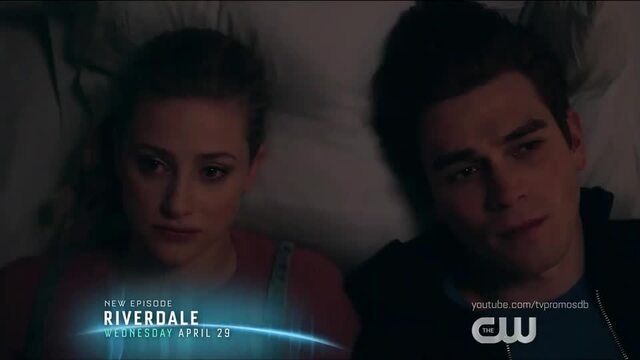 Archie and Betty get closer in Riverdale's 4x18 trailer
When I said I wanted a core four shake up, I didn't mean a Barchie cheating scandal!
Aaaaand we're back in town, baby. After a long hiatus, Riverdale has returned with yet another iconic musical episode.
Following a horrifying murder at a performance of Carrie and a production of Heathers brought to us by Cole Sprouse's vocals and that weird organ harvesting cult, it's time for Hedwig and the Angry Inch to take centre stage.
Season 4 episode 17, titled 'Wicked Little Town', finally gave Kevin Keller his moment to shine. This episode has everything: musical numbers, sequins, feathers, platform shoes, Barchie kissing and so many wigs Clifford Blossom is probably shaking in his grave.
READ MORE: KJ Apa confirms he has 3 more years on his Riverdale contract
If you haven't seen this week's episode, or simply just want to relive the moment where Kevin, in full Hedwig drag, plants a smacker on Archie's lips, here's an entire recap as told by the thoughts that ran through my mind – and probably all of yours too. Ready? Let's go.
1) Is it just me or did everyone else also forget that season 4 started off with these mystery videotapes?!
2) How convenient of whoever was sending the tapes to hit pause on their VHS terrorism scheme so that Jughead could finish concocting his fake death. How! convenient!
3) One small town terrorism plot line at a time, please and thank you.
4) Cole Sprouse really said, "Oh, you liked those little vocals I gave you last year? HOW ABOUT SOME MORE?"
5) Alice's snake print shirt! If you know... you know! 👀
6) Is... is that... is FP singing too? Oh wow, they really got everyone this year, didn't they?
7) All we need now is Charles, Polly and the twins to return home and we literally have enough members of the Cooper/Jones/Smith gang to star as the Von Trapp family in season 5's performance of The Sound Of Music.
8) Where are the twins, by the way? Have they just been left in the east wing of Thistlehouse to their own devices?
9) Hermione wandering into the living room, sitting down and staring at the TV while clutching a glass of red wine for dear life is a BIG MOOD for me currently.
10) WHA- HERMIONE'S HARMONY?! Why has no one booked her for a residency at La Bonne Nuit yet?!
11) My favourite thing about Riverdale is that everyone owns an iPhone and a Mac… yet no one seems to own an up-to-date TV??
12) Not being funny, but why don't these people just set up a camera in their own window to catch the VHS creep? Is it that hard? Like??? Come on now...
13) Kevin, Fangs, Sweet Pea, Reggie and Tom Keller? Now that's a spin-off I'd like to see. Don't know what it would be about, but I think I would like to see it x
14) What does Hiram love more? Attempting to murder teenagers, himself or freshly pressed coffee? Hard to call!
15) Jughead's whole storyline in season 4 was about him going to school, and now he's back and apparently behind everyone else on credit? HOW DO SCHOOLS WORK? WHAT IS HAPPENING?
16) Charles. So cute and wholesome and good looking, yet… I still can't bring myself to trust him.
17) *whispers* Please don't let him be bad! Please don't let him be bad!
18) Mr Honey said: "If you keep singing your saucy R-rated songs in MY school, you're going to get killed! Or worse… BANNED FROM THE VARIETY SHOW!"
19) Noooo, not Archie and Fred's jalopy. I'm cryingggg!
20) Jughead did one semester at Sleuths "R" Us and suddenly he's too good for Betty's colour coded revision notes? Bit rude if u ask moi.
21) WELCOME TO THE MAIN STAGE OF RUPAUL'S DRAG RACE. THE CATEGORY IS: Casey Cott in fishnet tights.
22) Seriously, please don't speak to me unless it's about Casey Cott serving in those fishnets and platforms. It's so good.
23) THE KEVIN AND ARCHIE KISS!
24) What's Riverdale's fake version of The Tony Awards? The Phony Awards? The Toni Awards? BECAUSE KEVIN DESERVES.
25) Kevin Keller! Condragulations, my dear, you are the winner of this week's challenge. You have won a gift certificate to Pop's Chock'lit Shoppe worth five thousands doooooollars – and you've booked a guest spot on Katy Keene, where you'll be performing your act with the stars on Broadway! You may now leave the stage.
26) Hold awn... there's a pizza delivery service in Riverdale all of a sudden? Did that always exist?!
27) "Pre-Farm Kevin"? Back before someone carved out one of his kidneys for no good reason?
28) Seriously, why has the fact that Kevin had a kidney stolen in a botched underground operation never been brought back up?
29) And WHERE did that box of wigs come from? Are these the leftover props from Betty's cam girl days or what?
30) Kevin literally looks better in makeup than I do right now.
31) Maybe every episode should be a musical? Toni has had more screen time in the last 17 minutes than she's had all season.
32) IMPORTANT QUESTION: Where did Cheryl get those red boots from?
33) "This is my father's life! How could you be so short sighted?" Veronica, your dad literally had Archie framed and almost killed???
34) Jughead turned off that computer quicker than a 15-year-old shutting their laptop after their mum walks in and catches them reading fanfic at 11pm on a school night.
35) HOLD ON. Isn't the only reason Betty got into Yale because Jughead "died" and she was offered his spot? SHE SAID NEW HAVEN, RIGHT? DID THEY NOT GIVE JUG HIS SPOT BACK? WHAT?
36) This Bughead fight... It's like watching two of your best mates breakup on a night out while you just stand there and awkwardly watch on.
37) Once again, for your consideration: Casey Cott in Hedwig drag.
38) Glamazon.com staff after seeing a surge in orders for 'Hedwig wig' within the last 24 hours: "Wow. Wig."
39) OMG FRED :(
40) You know what happens every time Archie performs an emotionally charged duet with a female friend in a dimly lit room...............
41) OH MY GOD! OH MY GOD!
42) IT'S HAPPENING! BARCHIE! ARCHIE COMICS IS SCREAMING!
43) NOT EVEN A MOMENT OF HESITATION OR DOUBT!
44) AND SHE WENT IN FOR TWO KISSES? ELIZABETH!!!
45) When I said I wanted a core four shake up, I didn't mean a Barchie cheating scandal!
46) Oh Christ, and now Jug and Veronica are apologising... I! am! stressed!
47) Not gonna lie though, I have been waiting for this to happen since season one sooooo... 🤷
48) Not Archie having more pictures of Betty than his actual girlfriend on his wall!
49) Not Betty and Archie pining for each other through the window!!
50) NOT THIS SEASON 1 FLASHBACK!!!
51) Betty staring out the window is me in quarantine, thinking about all the times I said no to going to the pub.
52) Betty looking at Archie. Archie looking at Betty. Jughead looking at Betty. Veronica looking at Archie. Me looking STRESSED.
53) I'm not getting involved! I'm just here to enjoy myself!
54) The TENSION in this performance! When will they drop their Rumours album?!
55) Am I looking forward to the inevitable Jughead and Veronica time jump union? Ask again later.
56) This is the most clothing that has ever been worn on stage at La Bonne Nuit, isn't it?
57) Sorry but this? Right here? Alice and FP? The CUTEST shit I've ever seen in my life.
58) They should have kissed. Why didn't they kiss? WHY DIDN'T THEY KISSSSS?
59) I would like to see the adults kiss please!
60) Can you believe Falice is being taken away from us soon? A crime. Literally a crime.
61) OH WHAT THE HELL IS HAPPENING NOW?
62) Those masks? This is literally what I've been seeing in my quarantine anxiety dreams. My sleep paralysis demons.
63) OK SO, THE PERSON SENDING THE TAPES CLEARLY KNOWS ABOUT WHAT HAPPENED IN THE WOODS.
64) Dr Curdle Jr. knows. The Stonewall rats know. Charles knows. And Charles also knows that Jug is watching the tapes too, right?
65) Mum, can you come pick me up? I'm scared.