"RuPaul's Drag Race All Stars 3": Every Single Weave-Snatching Meme So Far
9 March 2018, 14:59
Is she gonna jump from there? Because these memes will go DOWN in All Stars herstory.
RuPaul's Drag Race All Stars 3 returned to our screens for another season of legacy lip-syncs, brutal elimination sabotage and gag-worthy death drops in January and the Twitterses and the Tumblrses have been gagging ever since. After just one episode, the memes started rolling in faster than Aja managed de-wig everyone in the audience - and they haven't stopped.
Here's a complete list of every single All Stars 3 meme that the internet has given us, so far. Hallelu.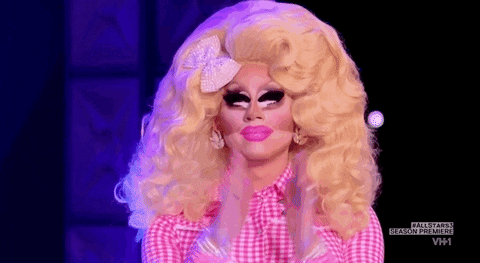 VH1
When Milk uttered the now iconic words "Is she gonna jump from there?" about Aja's absolutely WIG SNATCHING death drop in the talent show... a meme was born thanks to Morgan McMichaels.
January 26, 2018
January 27, 2018
January 27, 2018
January 27, 2018
My friends when I draw premature conclusions. #AllStars3 pic.twitter.com/rPiJJjBPCV

— Tim Wright (@Yoshirox10) January 27, 2018
In fact, Aja's portion of the talent show was nothing less than ICONIC.
You during a fire: stops, drops, and rolls

Me, a Drag Race fan, during a fire: #allstars3pic.twitter.com/nnoM0skflF

— Billy Lorusso (@blorusso_) January 26, 2018
#AllStars3
Him: I'm single
Me: pic.twitter.com/hZZKUMWS0v

— RuPaul's Drag Race (@RuPaulsDragRace) January 26, 2018
this is the kind of glo up i need in 2018 #AllStars3 pic.twitter.com/m1DhLNtRlj

— lucía (@cumbellos) January 26, 2018
Doctor: you have 48 seconds left to live, me: #AllStars3 pic.twitter.com/uKGPcgqKaS

— Weslee #TeamTrixie (@WSpark98NZ) January 26, 2018
Somewhere across the dazzling waters of Darienne Lake, Miss Darienne herself is SEETHING.
Darienne Lake seeing BenDeLaCreme win the reading challenge, main event and lip sync #AllStars3 pic.twitter.com/tCgno5PVO7

— Wasabi Mamí (@ericleygarcia) January 26, 2018
Someone paused during Trixie's talent segment and ended up with the most iconic screenshot of all time.
Trixie's reaction to Bendelacreme's lip sync was too much.
January 28, 2018
Trixie in general was too much.
"mom said it's my turn to use the Xbox" pic.twitter.com/8y60cpAjVz

— shannon (@babyybatt) January 26, 2018
Will Morgan get her ruvenge? Or will Miss Anxiety and Dee Pression claim her once and for all?
January 26, 2018
This was my reaction, literally #RupaulsDragRace #Allstars3 pic.twitter.com/bdPbTHH76z

— I V Á N (@Ivan_martsan) January 26, 2018
Um, literally NO ONE agreed on how to eliminate when it came down to it.
All the queens when bendelacreme said they came to a consensus on how to eliminate eachother #AllStars3 pic.twitter.com/7nhfozr4IB

— Divine Intervention (@_J0RDAAAAAN) January 26, 2018
Thorgy's reaction to being eliminated will go down in herstory.
Straight couple: *makes out in public*

Every gay ever: pic.twitter.com/qZYIm0vfgb

— Michael (@MikeyJonJon) February 2, 2018
Me: *takes a nude*

The FBI agent in my phone pic.twitter.com/GKcTXL4XaS

— Michael (@MikeyJonJon) February 3, 2018
Thorgy and Kennedy, your looks on the runway were... anime-zing.
Spot the difference: pic.twitter.com/HvAAfeaPnr

— daddy #1 (@danggjon) February 6, 2018
Even Thorgy's attempt to form an alliance has been memeorialised.
me as a femme/closeted middle schooler developing a pseudo-friendship with the kid who eats boogers pic.twitter.com/S5dHs48IP7

— Paul McCallion (@OrangePaulp) February 9, 2018
THE HEADPIECE!
NAAAAA ZVEGNAAAAAAA pic.twitter.com/L90L61Xsvn

— jenelle (@altjenelle) February 3, 2018
Milk's tantrum after safely sailing through to next week was meme-worthy.
I was in character the entire time and to be standing on that stage and not (sniff) not be commended for it, it's STUPID(sobs) i was in 8 of the 10 numbers and i DID the goddamn thing

— Aja (@ajaqueen) February 6, 2018
Me after watching #AllStars3.. pic.twitter.com/GDRYyXYoWI

— Jamie (@jmehough) February 3, 2018
Gay Twitter

|\
/ \_
━━━━━┓ \\
┓┓┓┓┓┃ Milk
┓┓┓┓┓┃ ヽノ
┓┓┓┓┓┃   /
┓┓┓┓┓┃ ノ)
┓┓┓┓┓┃
┓┓┓┓┓┃#AllStars3

— Mario (@mtehuitz) February 2, 2018
Trixie's weave from week three had people gagging.
The only super bowl I care about pic.twitter.com/RakKcvkvsA

— slam1 (@HipsAndPaads) February 5, 2018
@trixiemattel looking like she's about to beat the shit out of a young Tonya Harding pic.twitter.com/WxW2SElK3Z

— Dalton Deatrick (@Dea_Vine) February 10, 2018
Life really does come at you fast.
Life comes at you fast #allstars3 pic.twitter.com/tdBJbyCsH0

— Natalia (@lindaavalentina) February 9, 2018
Shangela, your runway look was... corny... but in the name of Te Fiti, you are safe.
Me: I hate corn.

Bae: I love corn.

Me:#RuPaulsDragRaceAllStars3 #AllStars3 pic.twitter.com/9iYM46DrUu

— David (@Davidbedabomb) February 9, 2018
Who wore it better? @itsSHANGELA #AllStars3 pic.twitter.com/7mFXguFAU4

— PopBuzz (@popbuzz) February 9, 2018
The time has come! For you to lipsync! Against Bendelacreme!
Allstars1: you'll lipsync for your life to save your team.
Allstars2: you'll lipsync for your legacy to eliminate a queen.#Allstars3 you'll lipsync against bendelacreme pic.twitter.com/MPNWWgwGDW

— (@rupaulmemes) February 9, 2018
Next episode of @RuPaulsDragRace pic.twitter.com/uR7FRVxPkq

— El Oso Rulo (@EyRulo) February 18, 2018
Shangela has everyone clockedT.
Bendelacreme: Hi Shangela

Shangela: Hey girl

Shangela's confessional: Oh miss Ben isn't fooling anyone with that "hi" stuff. See she's just playing the game, playing the "good girl" who "greets" people. I know better though, I see what's really going on honey

— Gabriel Gastelum (@gabrielgastelum) February 17, 2018
And when she faked our Trixie in the elimination? WIGS WERE LOST.
I'm cackling pic.twitter.com/VOcLIBW9wA

— Greg Bennett (@GreggyBennett) February 16, 2018
Speaking of Trixie...
When Trixie takes off her wig in the opening scene of every ep of All Stars pic.twitter.com/JJpHmq5KTb

— Alex Bedder (@itgetsbedder) March 2, 2018
Justice for
Great memes. Incredible memes but where were you when DeLa made the most shocking elimination choice in Drag Race herstory?
RuPaul: With great power comes gr-
Bendelacreme: pic.twitter.com/3opO7swdyE

— andrew (@wigabducted) March 2, 2018
"It's $20 at the door" pic.twitter.com/M2pNbD4ISM

— The Last Top (@JUSLIKEMIKE863) March 3, 2018
when i'm at a straight club and ed sheeran comes on for the third time pic.twitter.com/VHkqfcAGi9

— chip skylark (@scotty_13_) March 3, 2018
"Honestlyyy... it's just líke a Reallly hard decisionnn?.. that for me Personallÿy isn't going to be easy because in My Position of power¿ it's very difficult to choose something like this.. and I l¡ke totally love everyone but at the end of the day it's just gotta like hâppen.." pic.twitter.com/SLPAOccrMZ

— upandcummer (@upandcummer) March 2, 2018
I can't stop thinking about last night's #AllStars3 pic.twitter.com/e0L4jYHbrR

— Mike T (@majtague) March 2, 2018
BenDeLaChrist really did THAT.
what really happened last night: pic.twitter.com/DFbKHBr8cI

— yes gawd (@trixchi_) March 2, 2018
How we all felt after Aja was denied her spot back in the race after DeLa's elimination:
Me on Aja during season 9: 'She needs to go home ASAP'
Me on Aja after All Stars 3: pic.twitter.com/1feQlrhHD7

— Joe (@JoePassmore) March 2, 2018
Anyone ever noticed how...
bebe : *did the bare minimum*

judges :#AllStars3 pic.twitter.com/f7pA8IKV8S

— shuben sofiah (@hakimabdhalim) March 2, 2018
Trixie: *puts effort into her look and lyrics and characterization* Adam Lambert: "I dunnooooo...you were standoffish when I worked with you :/ "
Bebe: "ra tiki tiki ta ta"
Adam Lambert: "YOU BLEW ME AWAY OMGGGG, TOP 2!!!!!! WHAT LANGUAGE IS THAAAAT!!!!! "#Allstars3

— Holli (@not1mpressed17) March 2, 2018
The world of drag has truly HAD it with Shangela's Game of Thrones references.
MAKE IT STOP #AllStars3 pic.twitter.com/vFGHrx09DJ

— Mike T (@majtague) March 9, 2018
SHANGELA: *sees someone jaywalking*

SHANGELA: Oh, alright, Miss Sansa. I see you. I see what game you're playing.

— CleverNewYearsName (@bookhouseboy90) March 9, 2018
____ ____ ____ ____ ____
Listen to the #PopBuzzPodcast featuring Troye Sivan right here or subscribe for free on iTunes to get new episodes sent straight to your phone every Friday.