Drag Race's Chi Chi DeVayne shares update after being hospitalised for 'kidney failure'
21 July 2020, 14:26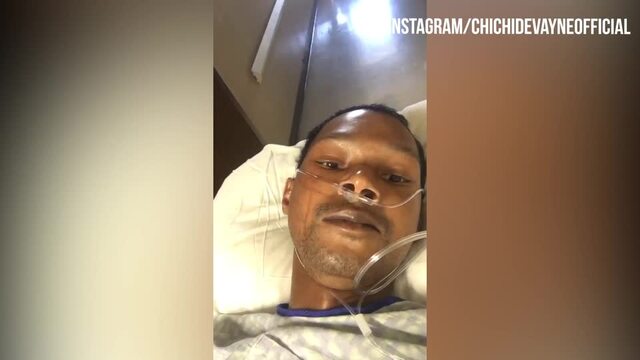 RuPaul's Drag Race star Chi Chi DeVayne gives update from hospital
RuPaul's Drag Race star Chi Chi DeVayne was admitted to hospital a month ago with suspected kidney failure, and has shared a video update with fans, candidly saying she will "fight to survive".
RuPaul's Drag Race alumni Chi Chi DeVayne has given an emotional update from a hospital bed, one month after being admitted for suspected kidney failure.
This week, the queen (also known as Zavion Davenport), underwent an operation so that medical professionals could take a closer look at what was going on with the major organs that had been affected.
Taking to Instagram Live, the season 8 contestant told fans that she's feeling 'better' but 'drugged-out': "I told them I need some of that s**t they put me on so I can take it home" she added.
READ MORE: Alexis Mateo calls out RuPaul's Drag Race for mistreatment of Latinx queens
"It went by smooth, they injected me with some stuff before I went in and I didn't feel a thing. I'm out of it right now so…I had to lay on my back for six hours.
"I'm ready to get back to doing what I love. Thanks so much to all the people who donated and wished me well and wanna see me do well. I been fighting y'all."
She admitted, "I'm gonna fight to survive of course but I've been fighting too mentally, because this is a new experience for me. But I got it under control. I'm okay, I'm gonna be okay."
She also thanked her fellow Drag Race sisters, including Trixie Mattel and Aquaria, as well as the fans who had been donating to fundraising pages to help cover the costs of her treatment.
"It makes me wanna do better for y'all. It makes me wanna live. Got me out here crying and s**t, let's blame it on the medicine," she said as she spoke about the friends that had helped her through the experience. "I will be out of this hospital soon and I will be moving on to new and exciting things."
Chi Chi has been living with a rare condition called Scleroderma since 2018, and just recently, it attacked her immune system and internal organs, causing damage and suspected kidney failure.
Get well soon!
READ MORE: QUIZ: How many of these Drag Race queens can you actually remember?