Drag Race's Chi Chi DeVayne is in hospital again battling pneumonia
17 August 2020, 16:03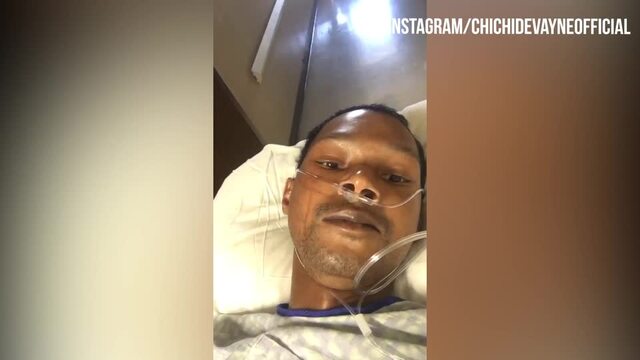 RuPaul's Drag Race star Chi Chi DeVayne gives update from hospital
Chi Chi is also living with scleroderma after being diagnosed in 2018.
RuPaul's Drag Race star Chi Chi DeVayne has asked fans to keep her in their prayers after she was diagnosed with pneumonia.
Last month, Chi Chi – who appeared in Season 8 and All Stars Season 3 of Drag Race – was admitted to hospital for suspected kidney failure and she filmed herself undergoing dialysis, a procedure that involves removing waste products and excess fluid from the blood when the kidneys stop functioning properly.
Chi Chi, real name Zavion Davenport, was discharged from hospital a few days later but over the weekend she confirmed that she had returned to hospital on Instagram Stories.
READ MORE: Drag Race's Chi Chi DeVayne shares update after being hospitalised for 'kidney failure'
"Hey guys, I'm back in. Keep me in your prayers, I'll be back soon. Currently battling pneumonia so I'll be MIA for a few more days," she wrote, alongside a selfie from her hospital bed.
Soon after Chi Chi's announcement, World of Wonder – the production company behind Drag Race – tweeted her message of support along with her payment details for fans that would like to help. The tweet read: "Sending so much love and positivity to Chi Chi DeVayne, who is currently back in the hospital."
In 2018, Chi Chi was diagnosed with scleroderma, a group of rare diseases that involve the hardening and tightening of the skin and connective tissues. According to the NHS, it's thought scleroderma occurs "because part of the immune system has become overactive and out of control. This leads to cells in the connective tissue producing too much collagen, causing scarring and thickening (fibrosis) of the tissue". It's not clear why this happens.
Sending so much love and positivity to #ChiChiDeVayne, who is currently back in the hospital. 🖤
.
If you'd like to support our sister, here's how:
.
👑 Venmo: @Zavion-Davenport
👑 Cashapp: $ZavionDavenport
👑 PayPal: chichikdevayne@gmail.com pic.twitter.com/zI64dCiBFK

— World of Wonder (@WorldOfWonder) August 15, 2020
Announcing her illness on Instagram at the time, Chi Chi wrote: "Lots of people don't know but I was Recently diagnosed with scleroderma I have been dealing with this over the past eight or nine months but was afraid to expose it to the public in fear of losing out on jobs and facing criticism from friends and fans...but i feel it's finally time to let the world know what's really going on with Chi Chi.
"Bottling this up has had me in a state of depression. It has made me hate my appearance and also made me stray away from the public eye but I'm no longer hiding and living in a state of fear i just ask you all to keep me in your prayers as i battle with this life changing illness."