Selling Sunset's Chrishell Stause exposes Nicole Young with text screenshots amid feud
22 May 2023, 17:49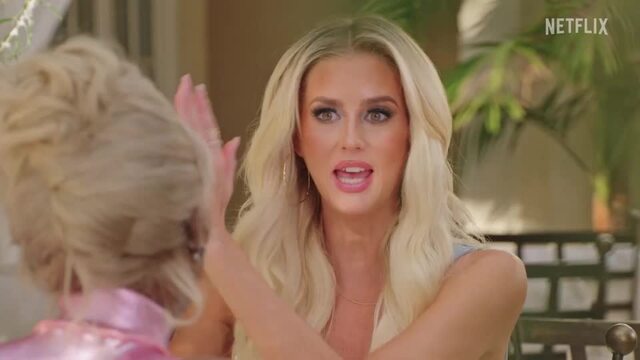 Watch the trailer for Season 6 of Selling Sunset
Chrishell is calling out Nicole's 'fake' storyline in Selling Sunset season 6 by revealing the texts she sent her before filming the show.
In this life, nothing is certain except death, taxes and a fresh batch of Selling Sunset drama every time a new season drops.
Selling Sunset season 6 finally arrived on Netflix last week (May 18) after what felt like an eternity. While the legendary Christine Quinn may no longer at The Oppenheim Group or part of the show, the chaos still lives on.
This season, two new agents – Bre Tiesi and Nicole Young – are introduced to viewers. Nicole, who has been with brokerage for 8 years and is the "longest standing and top producing agent", immediately finds herself in the middle of drama with Chrishell Stause.
Throughout the 11 episodes, things get quite heated. Accusations are thrown around, lawyers are mentioned, drugs tests are taken... And now it seems as though Chrishell is wanting to set the record straight on one aspect of this season's storyline once and for all.
Why are Selling Sunset's Chrishell Stause and Nicole Young feuding?
Ok, so... why are Chrishell and her new co-star Nicole feuding? What's the issue? What's the beef? What's going on?
Early in the season, we're introduced to Nicole who immediately explains that she and Chrishell "have never been close, and will frankly never be close." She also later explains to Mary that she has very "mixed feelings" about Chrishell.
In the same episode, Chrishell then explains that the issue stems from a situation that happened years ago when Jason added her and Nicole to the same listing. Chrishell claims that Nicole felt like Chrishell didn't deserve the credit at the time because she was a fairly new agent. While Nicole claims she did all the work on those listings, Chrishell also says she pulled her weight too.
Nicole also alleges that Jason gave Chrishell listings because he had a crush on her at the time. (Jason ended up dating Chrishell in 2021, and he also previously dated Nicole, apparently.)
The two confront each other in episode three after Chrishell finds out about all the "shit" Nicole has been talking about her. And it all then comes to a head in episode 7 when the group head to Palm Springs, where Chrishell accuses Nicole of... *checks notes* being on drugs at a group dinner.
Following the dramatic season, Chrishell has now taken to Instagram to seemingly expose Nicole's storyline, and her apparent issues with her specifically.
Captioning the post, "This post goes out to those who love facts🧐", Chrishell posted two screenshots of a conversation she allegedly had with Nicole shortly after Nicole got the news she would be joining the show as a full time cast member for the next two seasons.
The DMs appear to show Nicole asking Chrishell for friendly advice about the logistics of the show from a production and filming perspective, despite Nicole stating in the show that they were not friends and have not ever been close.
Chrishell's co-star and friend Emma Hernan even popped up in the comments to write: "WE GOT THE FACT CHECKER UP IN THIS B*TCH!!!!!!!!!!! 👏🏻 👏🏻"
To make matters even more dramatic, Chrishell alluded to her confrontation with Nicole at the beach house in episode 3 way back in September 2022 with cryptic Instagram Story posts.
"The thirst for camera time on season 6 is REAL. Wow," she wrote. "That was insanity. But also SO transparent. Get your 15 mins girl but leave my business out of it."
Chrishell continued: "Screenshots have been archived for this very moment. Of COURSE you have a huge issue with me now — not before — when you have a camera crew around you. I hate fake 💩. . .If you want camera time-JUST SAY THAT."
"I would have helped you get the right angle. But don't try to come for people I love or my business when you were added and I was there to hype you up excited for you."
Oof! Needless to say that the two are not on good terms and the drama will no doubt spill over into Selling Sunset season 7.
READ MORE: Selling Sunset officially renewed for season 6 and 7
READ MORE: Brittany Snow splits from husband Tyler Stanaland following Selling The OC drama
Jonas Brothers vs. 'The Tower Of Truth' | PopBuzz Meets