Stranger Things' Gaten Matarazzo gets restaurant job after coronavirus halts production
17 August 2020, 15:19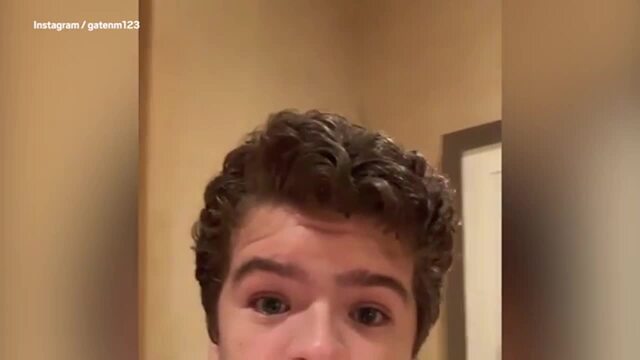 Stranger Things star Gaten Matarazzo defends his Netflix show Prank Encounters
Stranger Things star Gaten Matarazzo, AKA Dustin, has take up work as a food runner since production of the show was shut down due to coronavirus.
What are our favourite actors up to in the age of coronavirus? With production pretty much shut down on all of our favourite TV shows and films, it would seem that many are turning to other careers to fill their time.
And following a break in filming from Stranger Things 4, Gaten Matarazzo, who plays Dustin, has taken up a new job as a food runner in his hometown. Now that would be a dinner to remember.
17-year-old Gaten, has worked on the show since season one, is working alongside a few of his family members employed by the same restaurant in Long Beach Island.
READ MORE: Stranger Things 4 will feature a huge Hopper backstory reveal
We doubt that he'll be publicly revealing which restaurant that is, The Hollywood Reporter says that he's firmly geared up in a mask and a hat, so that he's not recognised by too many fans (although we're sure it would drum up custom).
Stranger Things began filming its fourth season when production was quickly shut down in March due to the ongoing coronavirus crisis, and there's no sign of when it will resume.
Co-star David Harbour admitted that it could be as long as 2021 before the team get back together to work on the show: "Who knows? We're shut down now. It was supposed to come out early next year, I think, although I don't have authority on this. And now I don't know. That'll probably be pushed back. Hopefully we can get back to work but I don't know what that looks like."
In November last year, Gaten starred in another show, Prank Encounters, which quickly received a lot of backlash due to its insensitive nature. The prank show targeted people looking for work as they live out their worst nightmares at their new jobs.
In response to the backlash, a Netflix spokesperson told PopBuzz: "The pranks in Prank Encounters are spooky, supernatural, and over the top, and everyone had a great time. All participants came in with the expectation this was a one-day, hourly gig and everyone got paid for their time."
Well, at his new hourly-paid gig, it would seem that the roles have quickly reversed for Gaten, and we can only hope that production on one of our favourite spooky series' is back up and running again soon.