Steve and Robin almost 'got together' in Stranger Things 3, according to Maya Hawke
31 July 2019, 14:08 | Updated: 28 May 2022, 21:19
Stranger Things Cast vs. 'The Most Impossible Stranger Things Quiz' | PopBuzz Meets
"Throughout filming, we started to feel like she and [Steve] shouldn't get together..."
Stranger Things 3 brought a lot of random groups of characters together but the dynamic and budding friendship between Steve Harrington (Joe Keery) and Robin Buckley (Maya Hawke) was one of the stand out moments of the entire season.
The two Scoops Ahoy employees soon became one of the fandom's favourite duos after being thrown together thanks to a suspicious Russian conspiracy and ending up spending the entire season stuck in an underground bunker with Dustin and Erica.
READ MORE: Stranger Things 3 writers weren't sure if the Scoops Troop 'made sense' at first
It looked like her and Steve were on course to get together at the end of the season. A potential relationship was commented on multiple times throughout the season by Steve and Dustin but in episode seven ('The Bite'), Robin comes out to Steve after he opens up about his feelings for her. He's into her, but she's not into him because she's into girls. Tammy Thompson, specifically.
Hawke later revealed that Robin and Steve were apparently supposed to get together in season 3 - but it all changed during filming.
In an interview with the Wall Street Journal, Hawke said: "Throughout filming, we started to feel like she and [Steve] shouldn't get together, and that she's gay. Even when I go back and watch earlier episodes, it just seems like the most obvious decision ever."
In a previous interview with Variety, Maya also revealed that the writers didn't actually decide on Robin's sexuality until "around episode 4 or 5."
"The Duffer brothers and I, and Shawn Levy had a lot of conversations throughout shooting and it wasn't really until we were shooting episode four and five, I think, that we made the final decision," she said. "It was kind of a collaborative conversation, and I'm really, really happy with the way that it went."
READ MORE: Robin's shoes in Stranger Things 3 hinted at her sexuality and you 100% missed it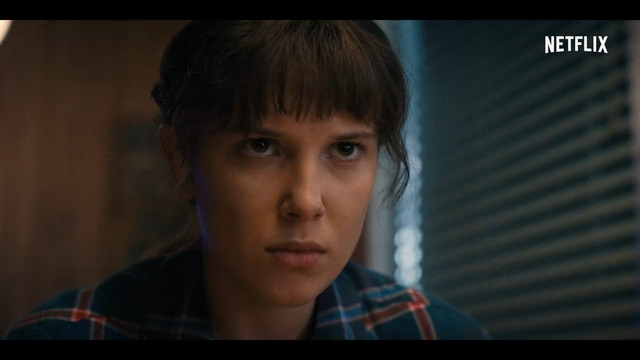 Watch the trailer for Stranger Things 4 Vol. 1
As much as we'd love to finally see Steve with a girlfriend, Robin's storyline was perfect and very much needed in such a mainstream show like Stranger Things.
Here's to Mom Steve and his best friend Aunt Robin saving the day and wingman-ing each other with the ladies at the video store in season 4.
Read more about Stranger Things here: