Jacob Elordi looked at old photos with Joey King for emotional scenes in The Kissing Booth
27 July 2020, 12:56 | Updated: 15 August 2021, 16:28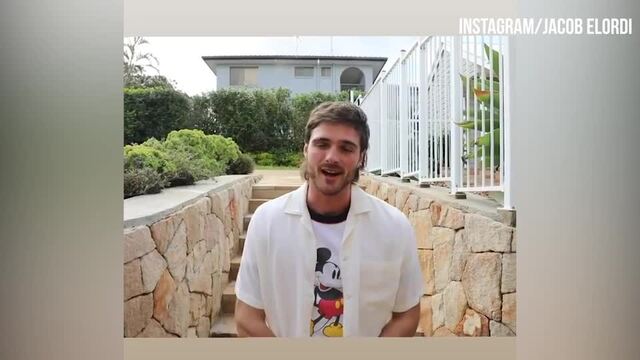 Jacob Elordi thanks The Kissing Booth fans for "changing his life"
Jacob Elordi revealed his acting technique in blooper reels for The Kissing Booth 2.
Jacob Elordi has opened up about how he filmed emotional scenes in The Kissing Booth, and his answer might make you cry.
After months of anticipation, Netflix released the final chapter of The Kissing Booth series and fans cannot get enough of it. Elle (Joey King) and Noah (Jacob Elordi) return alongside Lee (Joel Courtney), Chloe (Maisie Richardson-Sellers) and Marco (Taylor Zakhar-Perez) for one last film that sees our favourite characters head off to college, and the rest of their lives.
READ MORE: The Kissing Booth 3 ending: Here's what happens to each character
Fans of The Kissing Booth will no doubt already know that Jacob and Joey used to date each other in real life. In 2019, Joey admitted on the Mood with Lauren Elizabeth podcast that reuniting with Jacob for the second film was "a wild experience" but "worth it."
Jacob has also now revealed that he used old photos of them dating to prepare for sad scenes in the films.
At the end of The Kissing Booth 2, a reel of hilarious bloopers from the movie accompany the film's credits. For the most part, they're funny moments in which the cast are joking around on set. There a lot of clips of Joey and teasing each other, as well as cute ones of Joey and Jacob laughing and showing that there's no ill-will between them after their breakup.
However, there's also a heartbreaking clip that fans have singled out. Jacob is about to film the soul-crushing airport scene in which Noah thinks that things are over with Elle and music starts playing from his phone. Someone on set asks what's happening and he says: "Yeah yeah, it's me. I'm playing a slideshow. Just getting in my emotions. Pardon me."
Eagle eyed-viewers have noticed that the slideshow includes real photos of Jacob and Joey from when they were together as a couple. One person tweeted: "Jacob Elordi really made a slideshow of photos of him and Joey King so he'd be in character for that sad airport scene mygod my heart".
No. I'm not crying. You are.