Jacob Elordi reacts to fans saying he looked 'miserable' in The Kissing Booth 2
29 July 2020, 12:21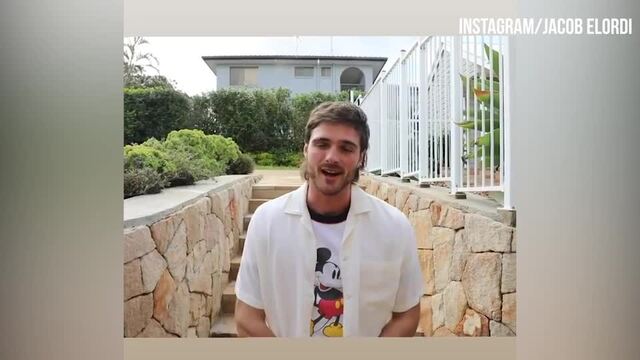 Jacob Elordi thanks The Kissing Booth fans for "changing his life"
"I wasn't miserable, I was bloody tired but not miserable. I had a blast."
Jacob Elordi wants you to know that, despite your savage memes, he was not (!) miserable while filming The Kissing Booth 2. In fact, he had a blast doing it.
With his role on HBO's Euphoria opposite Zendaya, and his recent real life break-up with Joey King, some fans were concerned about whether or not Jacob would come back to play Noah Flynn in the sequel. Thankfully, he did return – and viewers are praising his performance opposite Joey.
But soon after the trailer was released, Jacob's fans took to Twitter to comment on how 'miserable' he looked back in the role. With one fan tweeting: "jacob elordi looks miserable af in the trailer of the new kissing booth movie. i mean he's in a movie he basically don't wanna be in while having to make-out with his ex-girlfriend".
READ MORE: The Kissing Booth 3 is coming and will be released in 2021
Now, Jacob has addressed those comments and no, he wasn't actually miserable during filming, he was just tired and, in his words, he has a "resting miserable face." (Same, tbh.)
Speaking in a new interview with Access Hollywood, Jacob explained why his whole vibe might have come across that way in the trailer.
"No, no. I have a resting miserable face! You know what it is? It's because I'm usually thinking a lot, like, an insane amount about something ridiculous. Also, Noah is a moody dude, you know? He's a moody guy. He's not running around [super happy]. I wasn't miserable, I was bloody tired but not miserable. I had a blast."
Jacob also added that he was "exhausted the entire shoot" because he'd just finished up on 8 months of playing Nate Jacobs in Euphoria.
Touching on his experience of filming the sequel, Jacob said: "It was cool. I finished Euphoria after two nights of shoots and then got on an airplane and flew to Africa. So that was a dramatic shift mentally. But there was a nice calm in going back to [The Kissing Booth] and being able to settle into something I knew how to do and knew what to expect and had friends around."
Jacob Elordi Admits He Had To 'Wing' 'Kissing Booth 2'
In other news, The Kissing Booth 3 has been confirmed at Netflix. In fact, it's already been filmed and is set for release in 2021.
The third film was filmed back to back with the second, which means fans who were worried about Jacob not wanting to return for another outing as Noah, following his recent comments about playing jocks, it looks like we've got one more film to enjoy.