Jacob Elordi says he won't play jocks like Noah in The Kissing Booth again
13 July 2020, 12:11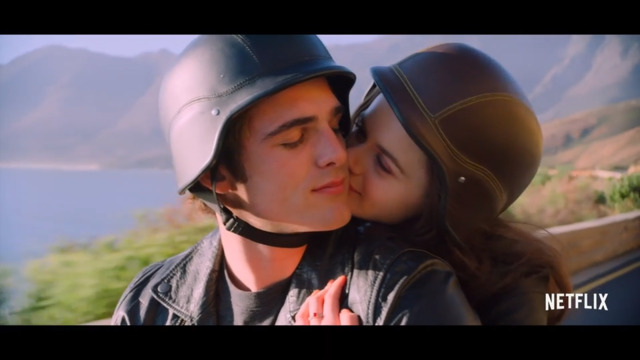 The official trailer for The Kissing Booth 2 on Netflix
Jacob Elordi spoke frankly about The Kissing Booth 2 and his role in the Netflix franchise in a new GQ Australia interview.
Jacob Elordi has revealed that he is done playing characters like Noah Flynn now that The Kissing Booth 2 has been filmed.
It's no secret that The Kissing Booth is one of Netflix's most successful movies to date. Not only did fans fall in love with Elle and Noah but they also became obsessed with the stars who played them: Joey King and Jacob Elordi. In fact, the film was so popular that Netflix ordered a sequel. The Kissing Booth 2 comes out this month (Jul 24) with Joey and Jacob reunited.
READ MORE: Jacob Elordi fans think he hated filming The Kissing Booth 2 and the memes are hilarious
However, fans think Jacob didn't want to be part of The Kissing Booth 2 and now he's spoken about it in a new interview.
Talking to GQ Australia, Jacob opened up about how becoming a celebrity after the first film came out affected him. He said: "It was super intense for a little while. Overnight you couldn't really go anywhere, but it's been two years now and it's died down considerably. So maybe the next one comes out and it'll be bad again for a little while, but I think it's all relative."
Jacob then confirmed that he has been offered many roles for "high-school jocks" following the success of the movie but he has no interest in playing them. "Nothing against that but I've sort of done it and it would be really hard for me to find joy in that. I'm also getting older now, and I'm starting to look older, so to keep going back to high school is kind of taxing."
Jacob previously criticised The Kissing Booth in an interview with The Hollywood Reporter about Euphoria. He said: "It's almost like righting my wrongs a little bit too, because the character in The Kissing Booth is awful and it's never really explained. He's kind of idolised and made into a hero, so I suppose Euphoria is showing why."
Okay. So we think it's safe to say that Jacob won't be involved in The Kissing Booth 3 if it ever happens?
In other news, Jacob explained why he flew back to Australia before filming on Euphoria season 2 was able to begin. "I was supposed to start shooting, but shit was starting to get weird in LA [with coronavirus]. And the last place on Earth I want to be when shit gets weird is America, so I booked a ticket and dipped out."
He's also grown a mullet in lockdown: "It is luscious. It is a huge sense of freedom. Usually, I have this all-American short back and sides, but I hate that haircut. I hate having super-short hair. So this is the first time I've been able to grow it."
We have no choice but to stan.