Do Belly and Jeremiah get together in The Summer I Turned Pretty? Here's what happens in the books
18 August 2023, 10:33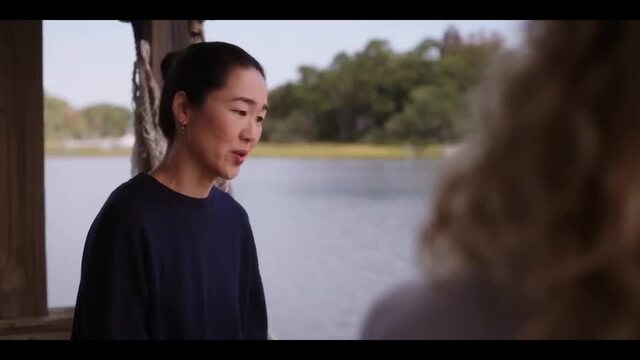 Watch new The Summer I Turned Pretty season 2 trailer
Belly and Jeremiah still have chemistry in The Summer I Turned Pretty season 2 but do they end up together?
Jelly shippers assemble! The Summer I Turned Pretty season 2 is finally airing...but do Belly and Jeremiah end up together?
Ever since the first season of The Summer I Turned Pretty aired last year, fans have been divided as to who Belly (Lola Tung) should end up with. Conrad (Christopher Briney) is Belly's childhood crush who she's loved forever. However, he struggles to open up to her. Meanwhile, Jeremiah (Gavin Casalegno) wears his heart on his sleeve and is madly in love with Belly.
At the end of season 1, Belly chooses Conrad but what happens in season 2 and do Belly and Jeremiah date in the books?
READ MORE: Why do Belly and Conrad break up? How the Summer I Turned Pretty season 2 differs to the books
Who does Belly end up with in The Summer I Turned Pretty season 2?
At the start of The Summer I Turned Pretty season 2, we learn in flashbacks that Jeremiah was incredibly hurt by Belly dating Conrad instead of him. With Susannah's cancer growing worse, Belly decides to end things with Conrad to stop getting in between him and Jeremiah. However, they rekindle their romance and Belly loses her virginity to Conrad that winter.
Things don't work out for long though. As Susannah's health continues to deteriorate in flashbacks, Conrad becomes more distant and in episode 3 we find out that he broke up with Belly at her school prom. Unable to open up about his feelings, Conrad reasons that Belly would be happier without him. Distraught, Belly gives her infinity necklace back to him.
We also see Belly and Conrad fight at the wake of Susannah's funeral when Belly sees Conrad's ex comforting him. Fast forward to the present timeline and Belly and Conrad are over for good and haven't spoken since that moment.
This is when Jeremiah comes back into the story. Conrad goes missing and Belly joins Jeremiah to search for him. They then learn that he's at their Cousins house because Conrad and Jeremiah's aunt is trying to sell it.
Throughout season 2, Belly and Jeremiah grow very close again and it's clear that there's still something there. At the end of episode 7, Belly tells Jeremiah that she wants him and they passionately kiss. However, just before the credits roll Conrad sees them kissing and they stop.
Belly, Jeremiah and Conrad then suffer a very awkward car journey which is only made more awkward when a storm forces the three of them to stay in a motel and share a room. In a heart to heart, Jeremiah and Conrad decide not to let Belly get between them.
Conrad then chooses to pretend that he no longer has feelings for Belly so that Belly and Jeremiah can be happy together. Belly and Jeremiah officially start dating and the season ends with Jeremiah watching Belly in volleyball practice.
WARNING: THE SUMMER I TURNED PRETTY BOOK SPOILERS BELOW
Do Belly and Jeremiah get together in The Summer I Turned Pretty books?
Just like in season 2, Belly and Jeremiah continue to flirt and bond in the second The Summer I Turned Pretty book: It's Not Summer Without You. While it's evident that Belly and Conrad still have strong feelings for each other, they struggle to tell each other how they feel. Conrad insists that Belly should be with Jeremiah instead of him.
In the final The Summer I Turned Pretty book, We'll Always Have Summer, Belly and Jeremiah officially date and even go to college together. However, Jeremiah cheats (yes - we were shocked too) on Belly at a party and she breaks up with him. After begging for forgiveness, Jeremiah proposes to Belly and she says yes.
However, as Belly and Jeremiah plan their wedding, she realises that she's not in love with him anymore. All the while, she begins to see Conrad in a romantic light again. Belly cancels the wedding and, during her summer abroad in Spain, she exchanges multiple letters with Conrad.
The books end with Jeremiah and Belly as friends and Belly and Conrad getting married at Cousin's. Jeremiah also has a mysterious, new unnamed date at their wedding.
Essentially, if The Summer I Turned Pretty stays true to the books, Belly and Jeremiah will date and even get engaged to each other but they will ultimately split.
What do you think? Who do you want Belly to end up with?
The Witcher Cast Interview Each Other | PopBuzz Meets