The Summer I Turned Pretty's Christopher Briney says Belly was right to pick Jeremiah in season 2
23 August 2023, 16:55 | Updated: 23 August 2023, 17:29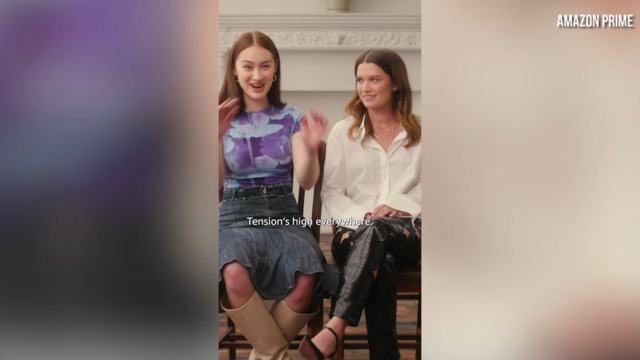 The Summer I Turned Pretty cast explain season 2
Christopher Briney and Gavin Casalegno both agree on who Belly ends up with in The Summer I Turned Pretty season 2.
The Summer I Turned Pretty's Christopher Briney has revealed that he's actually Team Jeremiah when it comes to season 2.
It's the greatest debate of our time. Are you Team Conrad or Team Jeremiah? In the past, both Christopher Briney and Gavin Casalegno have made clear that they stand by their The Summer I Turned Pretty characters. Christopher thinks that Belly is in love with Conrad but Gavin is convinced that Jeremiah is a better fit for her and viewers are split equally on either side.
However, Christopher has now said that he's had a change of heart and thinks Belly made the right decision in season 2.
READ MORE: The Summer I Turned Pretty fans think this song is a huge Belly and Jeremiah season 3 easter egg
Speaking to Collider about who Belly ending up with Jeremiah in season 2 and who she actually belongs with, Christopher said: "I think it's hard to say. I think that at the end of season 2, Belly and Jeremiah should be together. I think that in the same way, at the end of Season 1, I think that Belly and Conrad were meant to be together."
Christopher then added: "At both times, at different points in their lives, it's what these two characters want and what their hearts desire. And who is anyone to tell them not to?".
Agreeing with Christopher, Gavin said: "I think at the end of season 1 it just made sense with Conrad, and now I think for season 2 there's a little time for Jeremiah to shine."
If you want to know who Belly ends up with in the third and final book, you check out our extensive breakdown of what happens in the books.
READ MORE: Here's who Belly actually ends up with in The Summer I Turned Pretty books
Christopher also explained that he was angry with how Conrad treated Belly in season 2. He said: "I want to shake him and yell at him constantly. It's funny because starting to try and learn about this character was hard in a lot of ways. Because, like the first season, he was making all these bad decisions and being mean to people and blah, blah, blah."
He continued: "Then we come back for Season 2, and I'm like, 'All right, what's he gonna do now?' Then he's doing worse stuff and being less considerate and less thoughtful! But that's sort of what I enjoy about it and about playing him is he's young, and he's learning a lot, and he's making mistakes, and he's malleable, you know."
Christopher eneded by saying: "He's, I think, nothing but honest. I think he's very clear about what he wants and how he wants to go about life, and he does it in the wrong way often. But I think that's kind of beautiful."
What do you think? Did Belly end up with the right boy in season 2?
Read more about The Summer I Turned Pretty here:
Peach PRC Paints A Self-Portrait And Answers Questions About Her Life | Portrait Mode