The Summer I Turned Pretty added a Belly and Conrad sex scene that wasn't in the books
17 July 2023, 12:52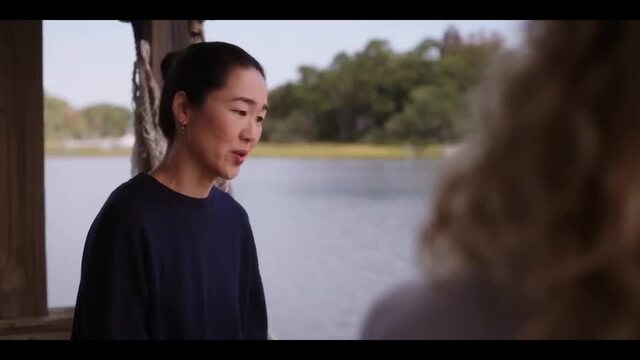 Watch new The Summer I Turned Pretty season 2 trailer
Here's what Lola Tung, Christopher Briney and Jenny Han have to say about Belly and Conrad's sex scene in The Summer I Turned Pretty season 2.
The Summer I Turned Pretty's Lola Tung has opened up about how she filmed her first sex scene with Christopher Briney.
In The Summer I Turned Pretty season 2, we finally see what Belly (Lola Tung) and Conrad (Christopher Briney) are like as a couple. However, in the present day we learn that they have split and it becomes clear that Jeremiah (Gavin Casalegno) still has feelings for Belly. Fans will have to wait until the season 2 finale to find out if Belly and Conrad get back together.
However, in a flashback in The Summer I Turned Pretty season 2, we see Belly lose her virginity to Conrad. Fans of Jenny Han's The Summer I Turned Pretty books will know this did not happen in the original novel series.
Now, Lola and Christopher have revealed what filming the scene was like and Jenny has explained why she put the scene in the show.
READ MORE: Every Taylor Swift song in The Summer I Turned Pretty season 2 soundtrack (so far)
At the end of episode 2, we see Belly and Conrad travel to Cousins Beach in a winter flashback. The couple watch snow fall on the beach just like in the book. However, they then go back to Conrad's house and have sex for the first time in front of the fireplace. To add to the romance of the moment, Des'ree's 'I'm Kissing You' plays in the background of the scene.
Discussing the scene with Variety, Lola said that they used an intimacy co-ordinator: "I felt very safe in that environment. They were trying to do everything that they could to make us feel safe and and make it as easy as possible for us to do our jobs… I feel very grateful that we were able to check in with each other and to bring the scene to life in a really beautiful way."
Agreeing with Lola, Christopher added that it was a "closed set", the scene was "very choreographed" and there was an "intense focus on comfort and making sure everybody's comfortable."
As for how Belly feels about it, Lola said: "For her in that moment in time, it is the the right thing and something that she wants to do and something that I think they both want."
On why she added the sex scene to the show, Jenny Han said: "I felt like that's where Belly was in her journey. These two characters were very much in love and had known each other their whole lives. I felt like they had really been through something together, and we had been with Belly through many first-times. It was important for the audience to be with her for that one."
She continued: "I thought no matter what happened in the future, this will always be a moment that she shares with her first love. I approached the show in some ways as if I was writing a story in this moment in time. That's what I would have done if I was writing it today."
Read more about The Summer I Turned Pretty here:
The Witcher Cast Interview Each Other | PopBuzz Meets