Do Taylor and Steven end up together in The Summer I Turned Pretty? Here's what happens in the books
18 August 2023, 11:23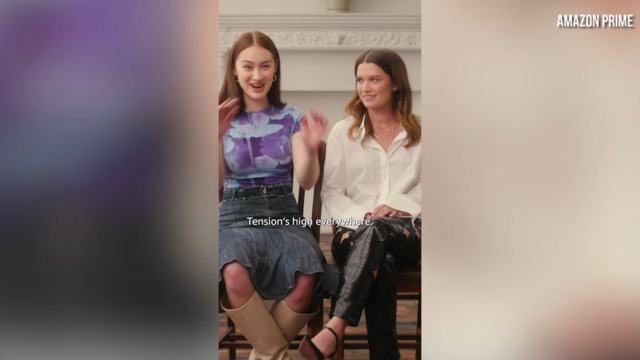 The Summer I Turned Pretty cast explain season 2
Fans want Taylor and Steven to date in The Summer I Turned Pretty season 2 but do they actually get together?
There's a lot of chemistry between Taylor and Steven in The Summer I Turned Pretty season 2 but do they end up together?
Staylor have a lot of history. In The Summer I Turned Pretty season 1, Steven dates Shayla. However, Steven and Taylor also make out at Belly's Sweet 16 and Taylor confesses to Belly that she's always fancied Steven. Fast forward to season 2 and Shayla's broken up with Steven. Meanwhile, Taylor has moved on and is now in a relationship with aspiring singer Milo.
Has Taylor really moved on though? And is Steven in love with Taylor? Here's what happens in season 2 and in the books.
(Warning: Spoilers ahead!)
READ MORE: Does the house get sold in The Summer I Turned Pretty season 2? Here's what happens in the books
Do Taylor and Steven date in The Summer I Turned Pretty season 2?
As soon as season 2 begins, it's clear that Steven and Taylor still have chemistry. Steven also appears to be actively jealous of Taylor's relationship with Milo. When Steven realises that Belly is at the Cousins beach house with Jeremiah and Conrad, he decides to drive there. He lets Taylor know and Taylor says that she's coming with him so that she's not left alone.
During the car journey, Taylor and Steven bicker about Milo. However, as the episodes progress, the pair begin flirting with each other. They also constantly making each other laugh and it becomes increasingly evident that Taylor would be better suited to Steven than Milo. The will-they-won't-they vibes get even stronger.
In episode 5, Steven dances with Taylor at the country club, and in episode 6 Steven confesses his love for Taylor at the beach house party. Milo gatecrashes the party and fights with Steven but Taylor stops them. She ends things with Milo when she realises that he doesn't even know what her middle name is.
The episode ends with Steven telling Taylor her middle name and the couple kiss each other. In the following episodes, Steven and Taylor decide to officially start dating each other. Staylor forever!
READ MORE: The Summer I Turned Pretty season 3: Release date, cast, plot and book spoilers
Do Taylor and Steven end up together in The Summer I Turned Pretty books?
Unfortunately, there are no answers about Taylor and Steven's relationship in It's Not Summer Without You. Unlike the show, Taylor and Steven have very minor roles in the book and we don't see either of their romantic lives explored in depth. The show has also made some drastic differences to both characters to help flesh them out.
In the first book, Steven is present but he heads off to tour colleges shortly after arriving in Cousins. He's far removed from any of the drama. In other words, his relationship with Shayla and his will-they-won't-they relationship with Taylor were written specifically for the show.
As for Taylor, she and Belly have fallen out in the first book. She only appears in flashbacks and she upsets Belly by flirting with Conrad. In the second book, Belly is friends with Taylor again. However, Taylor doesn't come to Cousins either by herself or with Steven. Taylor has a boyfriend at prom but he's a minor character.
One other key difference in the book is that Jeremiah hates Taylor. By contrast, they get on well in the show and Taylor is desperate for Belly to date Jeremiah.
What do you think? Will Taylor and Steven end up together in the show?
The Witcher Cast Interview Each Other | PopBuzz Meets