The Umbrella Academy season 2 first look is here and Diego looks so different
28 March 2020, 12:29 | Updated: 4 July 2020, 14:33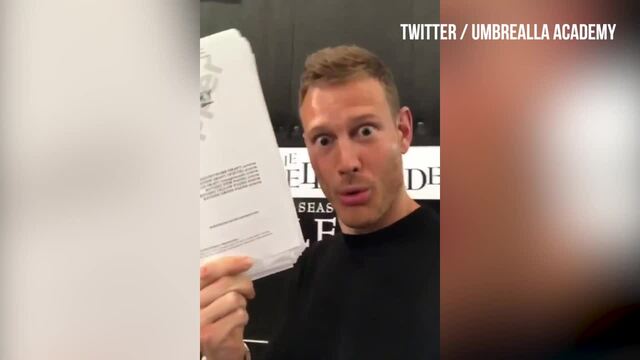 Your first behind the scenes look at 'Umbrella Academy' season 2
Diego has long hair and a beard now.
As Netflix shuts down production on many of its shows due to coronavirus concerns (Stranger Things 4 will now likely be released later in 2021), post-production on The Umbrella Academy season 2 looks like it's still going strong.
Filming on The Umbrella Academy season 2 wrapped in November 2019. Since then, the editing and visual effects teams have been hard at work putting the show together.
READ MORE: The Umbrella Academy is getting a prequel spin-off comic for Klaus Hargreeves
Sharing an image on Instagram, show runner Steve Blackman assured fans that, despite Netflix's safety shut down, editing on the new season is still (cautiously) going ahead.
And he even shared a glimpse at Diego's brand new look for season 2 in the process.
The caption on the picture reads: "Even #corona can't stop an Umbrella Academy Mix! But I swear we're washing our hands... @umbrellaacad #purell @umbrellaacademylat @netflix #netflix"
The image shows Diego (played by David Castañeda) with long hair and a beard – pretty different to what he looked like in season 1, right? (Behind the scenes images of his new look have already been shared online.)
While there's no set release date for season 2 just yet, we know that it will arrive at some point in 2020. Promotional images for season 2 have already been released by Netflix, teasing a huge time travel storyline.
Following Vanya's antics in the season 1 finale, the Hargreeves siblings went hurtling through time thanks to Number Five's quick thinking. Season 2 will focus on "when" they are, as opposed to where they went.
Three new characters will also be joining the Hargreeves siblings. Lila, Raymond and Sissy... Are they allies? Are they enemies?
Hope's hoping an update about that release date arrives soon because we are desperate to see what happens next on the show.