11 Simple Phone Hacks That Every Festival Goer Needs To Know
15 May 2017, 10:01 | Updated: 31 May 2017, 15:30
Promoted by Vodafone UK
Don't be caught unprepared.
Whether you're heading off to a festival this season or planning a quick road trip, your mobile phone will probably be your lifeline.
To make sure you're making the most of your phone's potential, here are some different phone related tricks to ensure all your adventures are stress free.
1) Put your phone in a sandwich bag.
We all like to consider ourselves responsible when it comes to our phones, but accidents happen. Festivals can get wet, muddy, and generally sticky, so you'll always want to stay one step ahead of the game. For a low cost, DIY waterproof phone holder, chuck your mobile into a clear sandwich bag. You'll still be able to touch your screen and you can avoid the eventual grime that tends to make its way onto every surface when you're at a festival.
via YouTube/GottaBeMobile
2) Use the Find My Friends app.
When traveling in a group, make sure you and your friends all download the "Find My Friends" app. The app will help you keep track of the stragglers, wanderers, and adventurers in your clique.
via Find My Friends app
3) Don't play yourself, get a battery pack.
Never run out of juice when you're hitting the festival scene. Investing in a portable power bank is the way forward. Consider it a festival essential for all the social media kings and queens out there. How else are people going to watch you document your experience on Snapchat and Insta Stories?
via iStock
4) Stash your cash inside your phone case.
Chances are that you're not going to be walking around with a full purse to keep all your belongings. Take your cash and ID and slide them in between your phone and your phone case. That way, you're not walking around with full hands and you know that, as long as you have your phone, you have your ID and money as well.
5) Back up all your important information BEFORE you leave.
You might not be the type of person to lose your festival ticket but it always helps to prepare for the worst anyway. So, save all your important information in your email or iCloud so you can access them anytime, anywhere. Spending five minutes doing this definitely beats risking being denied entry because you don't have your ticket information. Same goes for bank details, festival maps, and festival timetables.
via Unsplash
6) Change your lock screen to reflect your personal information.
Open your notes and type your name, address, and contact information. Screenshot that from your notes and set it as your lock screen. Phones have a habit of going missing at these kinds of events so it's always wise to be prepared. If it hasn't been stolen, someone will see your information and (hopefully!) get in contact.
via unlockiki.com
7) Turn a friend's phone into your own personal lighting setup.
Night time photography can get a little hairy. If you're yearning for that perfect after hours shot, have a pal turn on their phone's flashlight and point it in your direction to get the most out of your (obviously superior) front facing camera. Alternatively, you can always grab a phone case with a built in back light.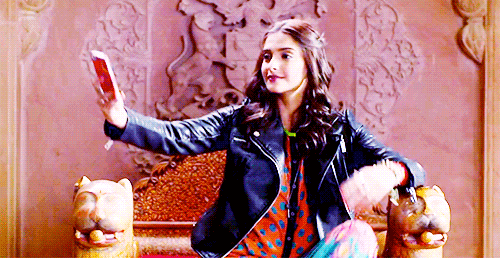 8) Step up your photography game.
Festivals are part entertainment and part aesthetics. Keep your aesthetics on point with a superior photo app to edit all your favourite moments. VSCO is probably the best photo editor when it comes to filters and presets and APRIL is a cut above the rest for grid lovers.


via smuug.com
9) Make sure you've written your phone's IMEI number somewhere before you arrive.
It can help police track your phone down, even if it's been wiped clean with a new sim.



10) Take photos on your phone of landmarks near where you parked or where you pitched your tent so you never get lost.



11) Boost your phone's signal by turning on airplane mode for 3 seconds and turning it off again.
Turning on airplane mode forces the signal to reboot and could potentially connect your phone to a closer cell tower.

via makeagif.com

Take your home plan abroad with Vodafone on Pay monthly. Worry-free roaming with 40 Roam free destinations Worldwide, including at Hideout Festival presented by Vodafone. Find out more at Vodafone.