Was Zayn Malik's "Solo Demo" Actually Meant For One Direction To Use?
2 April 2015, 14:28 | Updated: 8 May 2017, 17:09
We're all like "WHAAAAAAAT".
The saga of Normal 22 Year-Old Zayn Malik continues, whether we like it or not.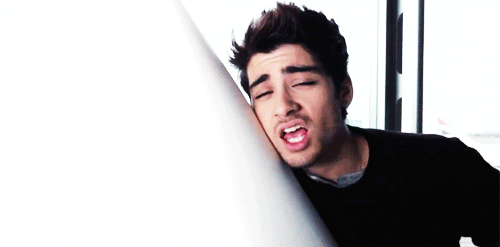 After the first piece of solo music from the star appeared online this week courtesy of producer Naughty Boy's Soundcloud, speculation that "I Won't Mind" was the start of Zayn's first solo music project was everywhere.
im not bothered if zayn wants to have a solo career im bothered that he told us he wanted to be a normal 22 year old when clearly he doesn't

— emma,,! (@twinkcasters) March 28, 2015
if zayn actually starts a solo career and goes on tour imma show up wearing 1d merch and throw cardboard cutouts of 4/5 on stage i dont care

— rosie? (@virgohes) March 28, 2015
But betrayed Directioners will be amazed to hear that "I Won't Mind" not only won't be an official release from Zayn, but may have originally been penned as a track for the whole band.
"This was just a rough demo of a track which was recorded for the last One Direction album," a source close to Zayn tells ET Online. "It didn't make it onto the album and it's not new, nor is it a solo track from Zayn."
However, the plot thickens, as this unnamed source is just one side of a developing story. After the Irish Daily Mirror reported on the origins of the demo, 1D's Louis chimed in:
@IrishMirror is that an April fool ?

— Louis Tomlinson (@Louis_Tomlinson) April 1, 2015
Don't know about you, but that little dig has made this whole thing MUCH more interesting. Louis has been on the warpath for a few days, following some goading from Naughty Boy that included the posting of the track.
Wow @NaughtyBoyMusic you're so inconsiderate pal , seriously how fucking old are you ? Grow up ! #masterofallwisdom

— Louis Tomlinson (@Louis_Tomlinson) March 30, 2015
More on this as it develops, we suppose; there seems to be no escape from the story for anyone - except apparently Zayn, who's currently vacationing it up with fiancé Perrie Edwards.
Do you think "I Won't Mind" was meant for 1D, or is this all Zayn? Check out the leaked track again below and let us know.