We Deserve A Better Breed Of Celebrity When It Comes To Social Justice Issues
30 April 2015, 15:36 | Updated: 8 May 2017, 17:09
Keep your TIDAL, we want change.
Yesterday, rapper The Game wrote an essay for Billboard on the civil unrest currently unfolding in Baltimore and New York City. These protests have primarily focused on the death of 25 year old Baltimore resident Freddie Gray who died of a spinal cord injury sustained while in police custody.
In his essay, The Game pens a thoughtful and authentic response to the unrest, using his own experiences to contextualise the experiences of those like him in America.
I feel what happened to Freddie Gray was just another reminder of the neglect of the African-American youth in America and us as people. Look at how long we've been victims of the world. From slavery, from not being able to vote, up until our children. Young black men in general are targets.

The Game
What The Game did was commendable. But why is he the only one doing it?
A month ago the world watched with one eyebrow raised as the richest and most influential musicians in the world stood on a stage and made a pledge to their fans.
They spoke in hyperbole about the nature of the music industry and how everything was about to change. They even signed a contract, as if the whole thing couldn't get any more bizarre. Their plan? To make you pay for their music. Revolutionary.
It's amazing how all those celebrities came to together for tidal but couldn't come together for everything that's going on in Baltimore.

— Precious (@AintyouPrecious) April 30, 2015
Most of these revolutionaries have stayed remarkably silent on the death of Gray and the protests that have followed, begging the question: Why is it that our beloved celebrities only mobilise when there is money to be made?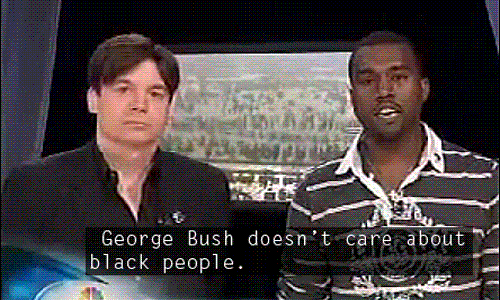 Many will remember the iconic moment when a 28 year old Kanye West got on national television and proclaimed that "George Bush doesn't care about black people." Whether George Bush was directly responsible for a slow FEMA response or not, Kanye's activism in that moment represented a visceral and almost adolescent anger that is rarely displayed by him or his contemporaries in 2015.
Instead all we get are the dull, insistant tweets about sponsored products and fashion lines, forgetting about the hundreds of men, women, and children dying at the hands of the police each year.
Damn.... What a crazy time to be black in America

— AZEALIA BANKS (@AZEALIABANKS) April 28, 2015
What is happening to America?

— AZEALIA BANKS (@AZEALIABANKS) April 27, 2015
We deserve better.
Whether it's a tweet, an essay, or a press conference, we can't afford to support artists who remain silent on issues such as these. Think back to Nina Simone and how hard she fought for equal rights in the 60s and 70s.
Celebrity endorsement is not essential; but it is important. It legitimises, mobilises, and spreads awareness.
We built the rappers, singers, and dancers which make up the urban art community and we must hold them accountable. When it comes to battling tough issues, one voice toward a chorus can mean everything.
Keep your TIDAL, we want change.