8 Of The Weirdest Kinds Of YouTuber Merch You Can Buy
20 May 2015, 12:20 | Updated: 8 May 2017, 17:09
Gaming channels as action figures, unofficial Zalfie books and a blend of tea. YouTube is so weird.
If, like us, you aren't too familiar with the Minecraft side of YouTube, you might be surprised to learn that some of the site's most prolific gamers are about to become available as action figures. This week gaming and toy vlogger CoinOpTV discovered an early release of Tube Heroes, a Minecraft-esque toy line based on huge gaming channels like SkyDoesMinecraft, ExplodingTNT and CaptainSparklez:
But while gaming channels as action figures are both awesome and completely weird, this isn't the first time we've seen some unlikely YouTube merch. And since we probably aren't about to see Dan and Phil on the shelves of Toys 'R' Us any time soon, we decided to list some of our favourite weird YouTuber merch that already exists out there:
1) Smosh Bobbleheads

Anthony Padilla and Ian Hecox have been dominating YouTube for years; and now these miniature bobbling versions of both members of Smosh can bring some weirdness to your desk for either $19.99 each, or $34.99 for both on District Lines.
2) Hannah Hart's "Carrot Onesie"
My Drunk Kitchen's Hannah owned a carrot onesie before it was cool. Then she made it cool, slapped her logo on it and turned it into a product of her own. It's a huge fan favourite, and it can be yours for $39 from DFTBA.
3) Plushies of Jenna Marbles' dogs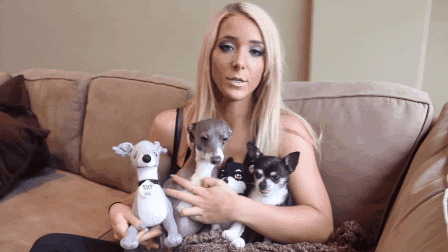 Jenna Marbles' dogs Mr. Marbles and Kermie Worm tend to steal the show any time they appear in her videos; so of course she had to make squeaky toy versions for you and your dog. They're sold out on her official store, but can still be found on Amazon for around $6.
4) Official "Bed Intruder" Anything
Remember that autotuned news story of the guy talking about a serial sex offender from, like, 2010? Well Antoine Dodson, the unlikely star of the video, has been milking his 15mins with quote-filled t-shirts, lunchboxes and lighters. Some of it is available at DistrictLines if you want to buy it for the irony factor.
5) The 100% Unofficial Alfie and Zoella Book
Made famous by Alfie's Twitter rant about it, The Alfie & Zoella A-Z is probably the first unofficial celebrity companion to be written about YouTubers. If you feel like this is something your Zalfie collection can't go without, you can find it for £5 on Amazon or in your local W.H. Smith.
6) Charlieissocoollike's Tea
If you have ever watched a Charlie McDonnell video, then no doubt you will have learned at least one fact: Charlie loves tea. In fact, he loves it so much that he incorporated it into the name of his production company QualiTea (get it?), made a short film all about it, and then went and made his own tea blend.
Incorporating Indian Assam black tea, Sri Lankan Uva black tea, ginger, cinnamon, cardamom and lemongrass, Charlie's "QualiTea Blend" can be yours for $15 on DFTBA; $5 of which will go to Comic Relief.
7) Hank Green's 2D Glasses
Do you get headaches at 3D movies? Not getting the enjoyment you were promised when your friends sprung for the 3D experience? Hank Green of the VlogBrothers has got you covered. Hank invented glasses that convert 3D movies back into 2D by switching out the lenses, and made them available to the world for just $8.99 each.
Know of or bought any other weird YouTuber merch? Let us know in the comments.