What Happens When You Let Your Mom Read Your Sexts?
27 March 2015, 13:29 | Updated: 8 May 2017, 17:09
Jesus Christ.
You know that time when your parents read your texts in high school and you were completely mortified? You survived the ordeal but now there is a triple security lock to prevent a repeat of those events.
THIS IS WORSE THAN THAT TIME.
Talking to your parents about anything sex, relationship, or dating app related is a slippery slope of "ums" "ers" and "can we end this conversation now?"
That doesn't seem to stop Irish Youtuber Riyadh from getting his mother (presumably named Riyadh's mum) from indulging in a large glass of wine and some pretty outlandish Grindr messages.

Grindr is, of course, the popular dating app for gay and bisexual men.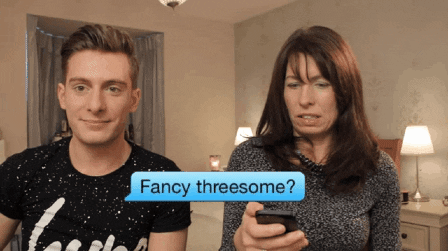 Thanks to her hilarious and totally nonjudgmental reaction, Riyadh's mum is officially our favourite mum. If only our real mum laughed at threesome jokes.