"Cereal Time" Is The YouTuber Breakfast Show You Never Knew You Needed
12 June 2015, 17:17 | Updated: 8 May 2017, 17:09
Old-school YouTubers Charlie McDonnell and Jimmy Hill are your new favourite weekday morning hosts.
Breakfast shows are often considered "dull", "for adults without jobs" and "incapable of interviewing anyone good because who gets up that early" by people like, well, me.
But consider this: What if there was such thing as a breakfast show that was good, formatted for a worldwide audience, and only lasted as long as it takes to eat your breakfast?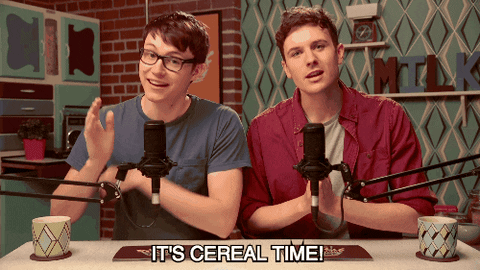 Veteran YouTubers Charlie "charlieissocoollike" McDonnell and Jimmy "Jimmy0010" Hill have just wrapped up their first week of a brand new project: a YouTube-based short-form breakfast show known as Cereal Time. The 15-minute episodes are debuting on YouTube every weekday morning, at 7am UK time.
Speaking to TenEighty this week, Charlie reveals that the idea for the show came from executive producer Hank Green, after a discussion on how to follow his short film project.
"[Hank] threw a few ideas at me for new channels, one of which was a show called Cereal," admits Charlie. "I'd 'have breakfast with a friend and talk about things and do things'. Vague, but enough to go on!"
Jimmy, who took a back step from the YouTube world for a while to focus on a presenting career, was immediately drawn to the idea of co-hosting. "How could I say no?! I was sold as soon as Charlie told me the idea."
"We're working it all out as we go along, so it will be a bit chaotic but loads of fun... It's essentially a big morning hangout."
Cereal Time's first week has followed the theme of "beginnings", which has seen Charlie and Jimmy reacting to their own first ever vlogs, creating their challenge out of royal babies, and discussing inventions such as "Pet Butt Covers".

The show has already hit its stride as an entertaining addition to the morning of fans, and the guys hope it will become "part of people's morning routine, the thing you put on when you're getting ready to leave the house or are on the bus to school".
The fact that it follows the typical live breakfast show formula without the limits of actually being, y'know, live, means that the show has a unique advantage over other shows, in that it's accessible to a global audience. The fact that they're a pair of charming and adorable English lads as well doesn't hurt.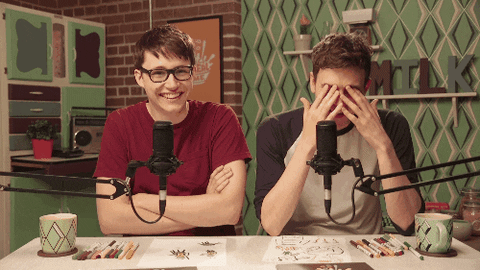 Cereal Time returns first thing on Monday morning, so make sure that you're subscribed and all caught up by then.