5 Meekakitty Videos That Prove You Can Do Everything On YouTube
17 April 2015, 17:17 | Updated: 8 May 2017, 17:09
The varied YouTube career of Tessa Violet proves you can be successful AND versatile, making her our YouTuber of the Week.
If you watch a lot of YouTube, you'll be aware that most creators tend to stick to one particular style of video. You might watch a mixed bag of musicians, beauty gurus, travel bloggers or people that just like straight-up vlogging; But what about those that do a little bit of everything?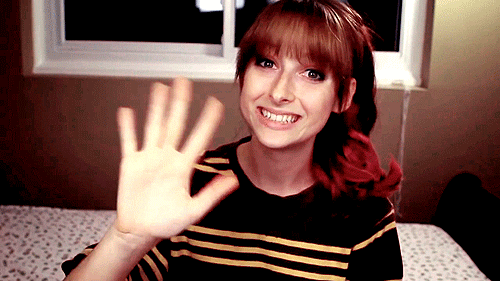 Starting as a vlogger and more recently breaking out as a singer-songwriter, Tessa Violet has been making videos under the handle "meekakitty" since 2007. In that time, she has stuck her fingers in almost every kind of pie that the subgenres of YouTube have to offer, and her 1 million-subscriber channel is proof that sometimes, you don't have to stick to just one thing to succeed on YouTube.
Here's a breakdown of just five of the kinds of videos that Tessa has mastered:
1) Vlogging
Tessa's early vlogs gained a reputation for being nerdy, hyperactive and fast-paced, varying in topics from Doctor Who, to other YouTubers. In recent years she's mellowed out into a wise, well-produced sage, offering advice for a younger audience.
2) Acting
Tessa is also well-known for putting her own spin on artist's music videos, often casting herself as the subject. This whimsical take on Hellogoodbye's "When We First Met" turns Tessa into literally everybody's brightly-coloured dreamgirl, and may have birthed the concept of #RelationshipGoals.
3) Travel blogging
Many YouTubers' lifestyles mean that they get to spend quite a bit of time travelling, so almost everybody accidentally becomes a travel blogger at some point. Tessa has documented many of her journeys around the world, from her time living in Japan to trips to London, Italy and the Bahamas.
4) Directing
Because why stop at just being in front of the camera all the time? Tessa has taken the time to get to know her video-making hardware, and has used her know-how to create way more than just vlogs; such as this beautiful visual adaptation of a poem written by friend and collaborator, Shawna "Nanalew" Howson.
5) Music
Finally, Tessa's latest and most ambitious incarnation of her career so far: Music. Picking up a guitar and learning to play properly just a couple of years ago, Tessa has come into her own as a musician at lightspeed. After releasing her debut album Maybe Trapped Mostly Troubled last March, Tessa has toured with other YouTube artists, played at huge events and cons such as VidCon and Playlist Live, and collaborated with nearly every other musician on the platform.
Great work, Tessa! If you like having someone with versatility in your Subscription box, then subscribe to her channel now.