YouTube's First 360° Music Video Is Totally Mind-Bending
30 March 2015, 11:43 | Updated: 8 May 2017, 17:09
Google Chrome's cool new feature puts you right in the middle of the video.
YouTube's support for amazing new video styles hasn't stopped at 4K quality. But for once, playing an example of their latest new feature won't kill your computer.
YouTube is supporting 360° "virtual reality" video; where everything within the surrounding environment (even behind you) is shot at once. And in collaboration with virtual video experts Kolor, Flemish artist Noa Neal is the first to put this awesome new feature to use on a music video.
So while the original video footage looks trippy and panoramic, like this...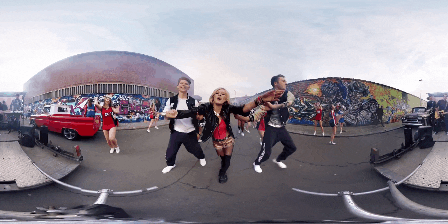 ...Users of Google's browser Chrome will see it as a straight close-up shot, that they can navigate Street View-style with the compass on the top left. It's almost like you're right in the middle of it.
The song itself is pretty good; it at least gives you something to listen to while you try out this crazy new toy. We spent half the song just looking at the sky. If you're a Chrome user, check it out below.