Aaron Taylor-Johnson's new Calvin Klein ad sends the internet into thirsty chaos
16 March 2023, 18:03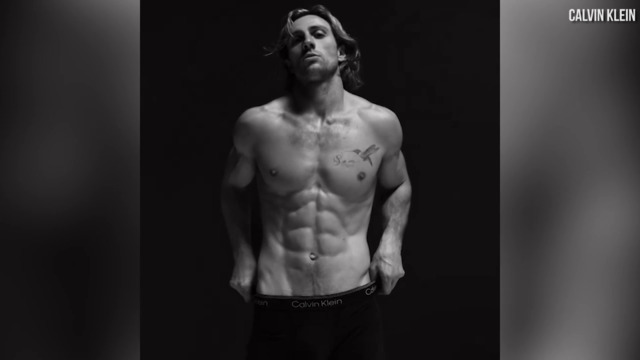 Aaron Taylor-Johnson's new Calvin Klein ad goes viral
The actor's Calvin Klein campaign has sent the internet into a frenzy.
Aaron Taylor-Johnson is an English actor who may be best known for playing Robbie Jennings, the teenage heartthrob and frontman of The Stiff Dylans in Angus, Thongs and Perfect Snogging. However, it may be best to now refer to him as Aaron Taylor-Johnson, the Calvin Klein model thanks to a new thirsty campaign ad that has caused chaos on social media.

In a new post, the official Calvin Klein Twitter account wrote "Light it up. Introducing Aaron Taylor-Johnson. Calvins or nothing," alongside a promotional image and rather dramatic black-and-white campaign video.
In the clip, Aaron can be seen showing off his best smize and dance skills while wearing nothing but a pair of Calvin Klein boxers.
Of course, the new campaign has prompted a barrage wave of thirst Tweets from fans who, quite frankly, can't believe their eyes.
"I'm gonna lose my mind" one person commented. "I was genuinely not prepared to see Aaron Taylor Johnson do THIS" wrote Netflix's Jarett Wieselman, reposting the video clip to their own Twitter account.
A third person said: "Aaron Taylor-Johnson doing a photoshoot for Calvin Klein is truly one of life's greatest gifts."
Over on Instagram, the thirst continued as fans flocked to the comment section.
"Never in my life did I want to be a lightbulb but here we are," one user wrote, while another commented: "Everyone say thank you to Calvin Klein."
Aaron showed off his super-toned physique as part of the campaign, which he worked on for his role in the upcoming movie, Kraven the Hunter.
In the movie, which is based on the Marvel Comics character of the same name, the actor will take on the titular role of Kraven, while Ariana DeBose stars as Calypso and Fred Hechinger appears as Dmitri Smerdyakov/Chameleon. Russell Crowe has also been cast, although his exact role is currently unknown.
Kraven isn't the first time that Aaron has taken on a Marvel role either. 2015 saw him portray Quicksilver a.k.a. Pietro Maximoff a.k.a. Wanda/the Scarlet Witch's brother in the MCU's Avengers: Age of Ultron.
Kraven The Hunter is part of Sony's Marvel universe, and it's unclear if Aaron will pop up as the character in the actual MCU.
Scream 6 Cast Take On The Ultimate Ghostface Trivia Quiz | PopBuzz Meets