Addison Rae accused of "blackface" after showing off darker skin colour
30 June 2020, 15:39 | Updated: 31 August 2022, 15:28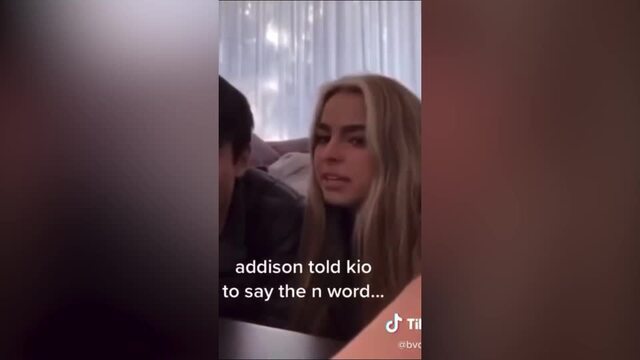 Addison Rae appears to ask Kio Cyr to "say the N-word" on Instagram Live
"Addison Rae literally doing blackface, like she seriously cannot think this is ok."
As conversations about race seem to be heightened, Addison Rae has come under fire for her alleged problematic behaviour.
The TikTok star, who has over 48 million followers, has been accused of blackfishing, trying to get her friend to say the N-word on Instagram Live and calling the Black Lives Matter movement a "cult".
Let's start with blackfishing. On Monday (June 29), screenshots from Addison's Snapchat started circulating Twitter. In the clip, which was reportedly deleted shortly after she posted it, Addison is getting her makeup done and her skin appears to be considerably darker than it usually is.
READ MORE: Addison Rae apologises to Charli D'Amelio after liking old "shady" comments
People started accusing Addison of blackface and blackfishing, a term used for people who try to appear Black or mixed-race.
addison rae has been hanging out with the kardashians for a week and they already made her make blackface

— 𝐟𝐚𝐛𝐬 (@godlyhvr) June 28, 2020
Just days before, Addison was involved in another controversy with fellow TikTok star Kio Cyr. During an Instagram Live, Addison and Kio were chatting when Addison covers her mouth and seems to whisper to Kio, "Say the N-word."
"No! I'm not saying that," Kio replies, prompting Addison to clarify her request, and respond: "I'm kidding!"
A few moments later, Kio said: "I don't want to be the want to be the next Melanin King," a term that is used ironically to describe non-Black men that say the N-word, Urban Dictionary reports. "Luckily, your Live just froze when you said that," Addison said in response, not realising the footage had been captured.
The moment went viral with many convinced Addison had made a racist comment.
Addison Rae danced to a song about EATING DISORDERS, got exposed for DISCREDITING the BLM movement just a few years ago, and NOW we have a video of her thinking it'd be funny to 'say the N word' but like she doesn't have to address it bc 'pretty privilege' right? ✌️ pic.twitter.com/cdLIiuEWcI

— Spill Plug (@spillplug) June 28, 2020
pretty privilege is a thing!! addison rae said the n word, danced to a song about EDs, hated on charli for no reason, encouraged her friends to say the n word, and said blm is a CULT and that "all lives matter". if she wasn't pretty she would've been cancelled a looong time ago

— 𝒆𝒍𝒊𝒅𝒊👾 (@elidirose) June 29, 2020
However, some are saying that she asked Kio if he had said a N-word rather than asking him to say it. Kio confirmed that this is what happened in an Instagram comment. He wrote: "She said 'did you say' lmao chill."
Madison is yet to publicly address any of the claims herself, but we'll update you as soon as she does.