Chris Evans revealed all his tattoos and people can't believe it
7 October 2020, 12:25 | Updated: 7 October 2020, 15:10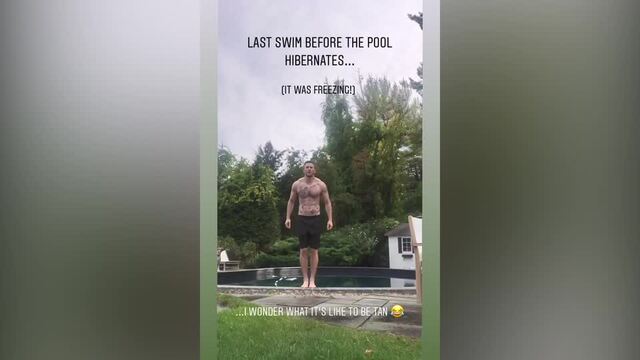 Chris Evans shows off tattoos in Instagram video
"I knew Chris Evans had some new tattoos but I didn't know my man was out here tatted up like THIS"
Chris Evans has been having a bit of a moment on social media recently. Earlier this week, he slammed Trump on Twitter for saying "don't be afraid of Covid" and now, he's got his followers in a twist over his heavily tattooed body.
Chris posted a short video to Instagram yesterday (Oct 6) of himself doing a flip into a pool but all people could focus on was a) his ripped physique and b) the amount of tattoos he has.
While some of Chris' biggest fans will know that he's been inked quite a few times, it seems like a lot of people didn't actually know about his tattoo collection – and it turns out there's now quite a lot of them.
READ MORE: Chris Evans addresses accidental nude leak in the most iconic way
How many tattoos does Chris Evans have?
In previous interviews, Chris has said that he loves tattoos, but tries to get them in places they can be hidden because it just takes longer to hide them in the makeup chair before filming.
Chris has a number of tattoos that have been seen before, including: The word 'loyalty' on his right arm, with a Kanji symbol symbolising 'family' below it. A Taurus symbol, which is his mother's zodiac sign. A quote on the left of his chest inspired by his Buddhist teachings. The words 'In loving memory of Bardsley with me always' in honour of a friend that passed away. The initials 'SCS' on his right ankle, in honour of his sibling's names, Carly, Shana and Scott.
He also has a matching Avengers tattoo with Robert Downey Jr., Scarlett Johansson, Chris Hemsworth and Jeremy Renner. (Mark Ruffalo didn't get it done.)
And now, thanks to this new video, it seems like he now sports a huge bird on his right pec, a star on his right hip and a series of other tattoos on his torso.
NO THOUGHTS ONLY CHRIS EVANS' TATTOOS

— spookgee | JO DAY (@cptmcrvels) October 6, 2020
the duality of chris evans amazes me?? like he is the softest cutest man ever but also a complete badass who can backflip, has washboard abs, a v-line, and a shit ton of cool chest tattoos.. mkay pic.twitter.com/6XQl03odH0

— katie 🎃 (@cevansavenger) October 6, 2020
Another 2020 plot twist. What a revelation!