Gwen Stefani says she's Japanese in response to cultural appropriation accusations
11 January 2023, 14:43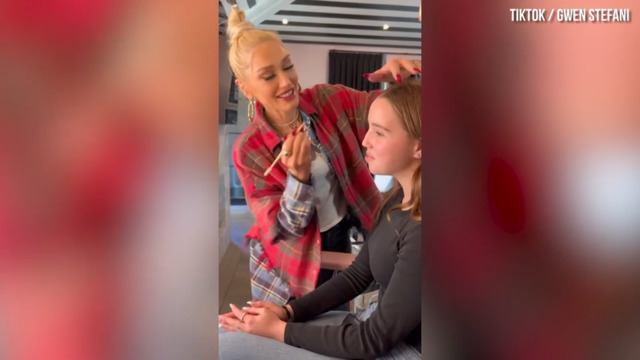 Gwen Stefani shows off new makeup line
Gwen Stefani has denied accusations of cultural appropriation during her Harajuku Girls era.
Gwen Stefani has addressed ongoing cultural appropriation accusations by claiming that she is Japanese in a new interview.
Throughout her career, Gwen Stefani has been accused of cultural appropriation. The 43-year-old singer has routinely used Japanese aesthetics in her work. In 2003, she employed four Japanese and Japanese American backup dancers to be her "Harajuku girls". Gwen even named them Love, Angel, Music and Baby to promote her album Love. Angel. Music. Baby.
In recent years, Gwen's artistic choices have been reexamined and come under further scrutiny. Now, she's defended them.
READ MORE: Kim Kardashian addresses blackfishing and cultural appropriation accusations
Discussing her controversial 2008 fragrance line, Harajuku Lovers, with Allure, Gwen said: "That was my Japanese influence and that was a culture that was so rich with tradition, yet so futuristic with so much attention to art and detail and discipline and it was fascinating to me." Gwen heard about Japanese culture through her father who worked at Yamaha.
Gwen then said that when she visited Japan for the first time, she felt like she had unlocked who she really was. The singer claimed: "I said, 'My God, I'm Japanese and I didn't know it." Gwen then reiterated her point by adding: "I am, you know." Gwen also said that there is an "innocence" to her love of Japenese culture and called herself a "super fan".
Defending her work further, Gwen argued: "If [people are] going to criticize me for being a fan of something beautiful and sharing that, then I just think that doesn't feel right. I think it was a beautiful time of creativity… a time of the ping-pong match between Harajuku culture and American culture."
She added: "[It] should be okay to be inspired by other cultures because if we're not allowed then that's dividing people, right?"
Elsewhere in the interview, Gwen also referred to herself as "a little bit of an Orange County girl, a little bit of a Japanese girl, a little bit of an English girl."
Glass Onion Cast Take On A Chaotic Mystery Interview | PopBuzz Meets