Penn Badgley welcomes first child with wife Domino Kirke
21 September 2020, 11:08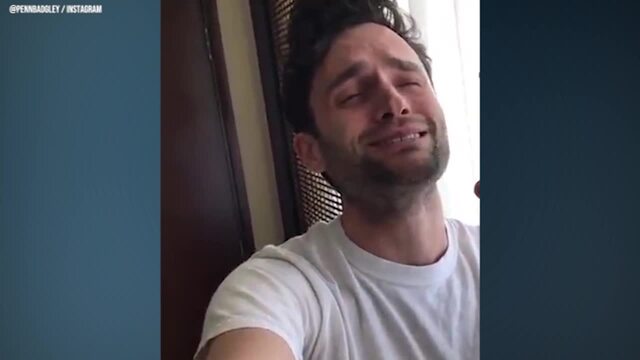 Penn Badgley says that he's hit 1 million followers for 'murdering' people
It's a boy!
Penn Badgley and his wife Domino Kirke have welcomed a baby boy.
On Sunday (Sep 20), Domino announced the their baby's arrival on Instagram, alongside a photo of her placenta art, captioned: "His heart shaped home." The singer and doula (a non-medical professional trained to help with childbirth) also revealed that she's already "40 days postpartum" which means she actually gave birth in August.
Domino also shared the adorable first image of the baby boy, whose name hasn't been released just yet, wrapped in a blanket and sleeping alongside her and their dog on Instagram Stories.
READ MORE: Penn Badgley says 'there's a lot he doesn't enjoy about' playing Joe Goldberg in Netflix's You
This is Penn and Domino's – who married in 2017 – first child together. Domino has son Cassius Riley, 11, from her previous relationship with musician Morgan O'Kane.
Domino announced her pregnancy in February, revealing that she didn't think she would have more children after having two miscarriages in a row. She said: "Pregnancy after loss is a whole other thing. After two miscarriages in a row we were ready to call it. I stopped trusting my body and started to accept the fact that I was done."
Penn's life is about to get a whole lot busier because as well as his new baby, You Season 3 is set to begin filming in October or November after it was suspended because of the coronavirus pandemic. Not only that, Penn's character Joe Goldberg is also going to become a father.