How to do the Gibberish Challenge filter on TikTok
17 April 2020, 12:26 | Updated: 3 November 2020, 10:39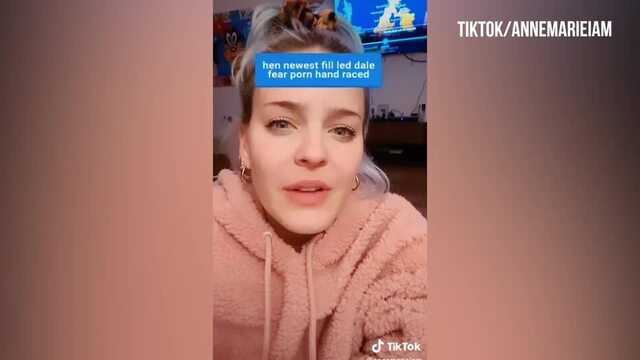 Anne-Marie takes on TikTok's Gibberish challenge
Here's how to get the Gibberish challenge filter on Instagram, and then upload it to TikTok.
Looking for a new TikTok challenge to keep you occupied for the next few weeks? Enter the Gibberish Challenge, or as it's also known, 'guess the gibberish' challenge.
Much like the 'in 2020 I will be' and the 'Which Disney character am I?' Instagram filters that went viral at the start of the year, the Gibberish filter has now gone viral on TikTok thanks to the hilarious new trend. But what is it and how do you get the Gibberish filter on TikTok?
READ MORE: The 'Chair Challenge' is taking over TikTok and here's how it works
The Gibberish filter is not actually a TikTok filter, it's an Instagram filter. You can film yourself using it on Instagram, and then upload the videos to TikTok to take part in the challenge.
The aim of the challenge is to guess what the gibberish words displayed on screen mean before the time runs out. You have 10 seconds to guess what the real phrase is before the answer is revealed.
How to find and use the Gibberish Challenge filter:
1) Head to your Instagram Story and swipe along the filters to the end, where you'll find the magnifying glass that says "Browse effects".
2) Tap the magnifying glass in the top right corner and search the word "gibberish".
3) Select the filter called "guess the gibberish" by creator gu_christopher.
4) Click "Try It" in the bottom lefthand corner.
5) Press and hold to film yourself.
You can also save the filter to your Instagram filter options on Stories. To do this, instead of clicking "Try It", tap the downward arrow button on the bottom right corner to save it. The filter will then appear as one of your main options on the left when you next go to post an Instagram Story.
You can then upload the videos to TikTok and join the thousands of hilarious examples on the #guessthegibberish and #gibberishchallenge hashtags. Here are some of the best ones so far...
And if you're looking for a way to cheat the system... look no further. Here's a foolproof hack that will ensure you score full marks when you're playing against your family and friends. You're welcomeeee.